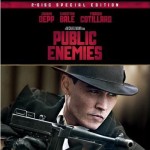 From Universal Studios comes Public Enemies on two-disc Special Edition Blu-ray, two-disc Special Edition DVD and single-disc DVD. Directed by Michael Mann (Last of the Mohicans, Heat), the movie stars Johnny Depp as legendary outlaw John Dillinger in a gangsta' tale set back in the 30's. The release date has been set to Dec. 8.
Blu-ray specs include 1080p video on BD-50s, 2 hours 20 minutes runtime, widescreen 2.40:1 aspect ratio, English DTS-HD Master Audio 5.1/DVS DD 2.0, English SDH (Disc 1) and Dolby Digital 2.0 (Disc 2). Check out full details on bonus features below.
Universal is also running a sweepstakes along with the movie's disc and digital releases. The studio will give away HDTVs, Netbooks, Blu-ray players and $100,000 in cash. The promotion starts on Nov. 4. More info can be found at http://www.universalstudios.com/publicenemiesinstantwin.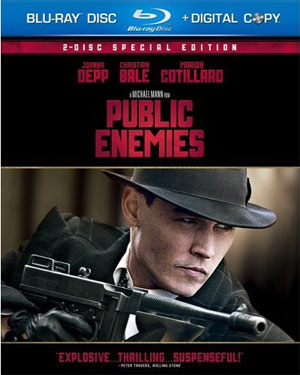 PUBLIC ENEMIES BONUS FEATURES
Both the two-disc Special Edition DVD and the Blu-ray(TM) Hi-Def version include:
—  Larger than Life:  Adversaries–Stars Johnny Depp and Christian Bale
face off in their portrayals of the real legendary gangsters shown in
the film.
—  Michael Mann:  Making Public Enemies–See Michael Mann work with his
cast and crew including Johnny Depp, Christian Bale and Marion
Cotillard.
—  Last of the Legendary Outlaws–A look at the real John Dillinger and
other notorious American gangsters including Bonnie & Clyde and Pretty
Boy Floyd.
—  On Dillinger's Trail:  The Real Locations–Compare the real locations
used in the film through behind-the-scenes and archival footage.
—  Director's Commentary–Feature commentary with director Michael Mann.
—  Criminal Technology–A study of the guns from the 1930s.  Watch Johnny
Depp and other cast members learn how to fire them realistically.
—  The Public Enemies Blu-ray(TM) and two-disc Special Edition DVD will
also be available with Digital Copy for a limited time only.  Transfer
the digital copy to your iPod, Mac or PC and experience Public Enemies
anywhere, anytime!
Public Enemies on Blu-ray exclusive bonus features:
—  U-Control(TM)–Universal's exclusive signature feature puts the viewer
just one click away from going deeper into the making of the film
without ever leaving the movie.
—  Picture-In-Picture–Dig deeper behind-the-scenes with
production-related featurettes on how cast and crew brought Dillinger
and his accomplices to life.
—  Interactive Timeline– Follow three timelines of a national crime
spree that spanned 14 months from 1933-1934 and view in depth coverage
on Dillinger and his gang through archival materials, historians and
family members
—  BD-Live(TM)–Blu-ray viewers can access the BD-Live(TM) Center through
an Internet-connected player to download more exclusive content, the
latest trailers and more!
—  My Chat–Use Internet-connected players to host a text chat while
watching the movie with friends who also own Public Enemies on
Blu-ray(TM) Hi-Def.
—  My Public Enemies Commentary–UniversalHiDef.com and the BD-Live(TM)
Center together offer the opportunity to create video, audio or text
commentary that can be shared with others in the BD-Live(TM)
community.
—  My Scenes Sharing–Bookmark favorite scenes from the movie then share
with BD-Live(TM) buddies!
—  Gangster Movie Challenge–Test your knowledge of some of Hollywood's
most infamous gangsters, then see how you rank on the leaderboard.