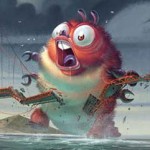 The best selling Blu-ray Disc as of Oct. 4 was Monsters vs. Aliens from Paramount and DreamWorks, that according to Nielsen VideoScan and Home Media Research. Coming in second was The Wizard of Oz (Warner) and following in third was X-Men Origins: Wolverine (FOX).
Blu-ray Disc revenue was up 5.53% from the same week last year, while DVD revenue was down 16.47%.
Overall spending on packaged media decreased according to the research, as BD revenue was much higher in previous weeks, even jumping to a 273% increase the week ending Sept. 20.
However, looking at the trends you can see high-def Blu-rays have been on the increase consistently for some time now, while revenue for DVD sales has been down when compared to last year.
Meanwhile, on Blu-ray pre-orders, online retailer Amazon says its best selling discs for Oct. 20 release include Transformers: Revenge of the Fallen (Two-Disc Special Edition), Waterworld, and Blood: The Last Vampire.