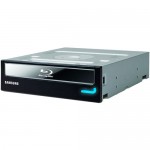 Samsung has announced their first internal Blu-ray drive labeled the SH-B083. The SH-B083 COMBO drive will read 25GB or 50GB BDs at 8x, and DVDs at the typical 16x speed. The drive uses Samsung's dual layer jumping algorithm to access data at 350ms, a speed which Samsung says is faster than any other drive on the market.
The SH-B083 is constructed with two lenses, one for viewing BD format discs and the other for CDs and DVDs. This, Samsung says, allows for more precise BD reading. In addition, the SH-B083 uses a four point skew adjustment for reading BDs (rather than the normal three point for DVDs).
The drive will read BD-ROM and BD-R formatted discs. Although the SH-B083 doesn't write to BD discs, it can write to DVDs and CDs.
The Samsung SH-B083 Blu-ray drive will be available in November. No word yet on price point.