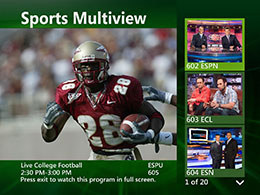 AT&T is rolling out some U-verse enhancements this fall, all at no charge to their customers. The most compelling new feature is Multiview, allowing you to watch 4 channels at a time.
The Multiview application will let you choose from a variety of channels, and select which one you want to hear audio from. The guide also groups channels by genre, saving you time scrolling channel by channel.
What's cool is if you have the ESPN GamePlan package there is a Multiview option to watch up to 4 games at once. Now there's a reason to buy a bigger HDTV.
Another enhancement is an application allowing you to view TV shows by award nominations, as well as vote and view related content.
Media Share is an additional new feature allowing you to stream music and view photos on your HDTV from your PC (while connected to the U-verse home network.)
Lastly, a new short film from the Spinal Tap crew titled ""Stonehenge: 'Tis a Magic Place" will air on channel 300 on Saturday, Sept. 19 at 10 p.m. ET.
The film will be broadcast free-of-charge to customers, thanks to a co-sponsorship with ShortsHD.