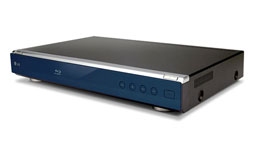 The LG BD390 Blu-ray Disc player will add streaming HD service from VUDU later this month, via a free automatic upgrade. The new service allows BD390 owners to buy or rent movies and TV shows from VUDU's HD library.
The new feature is being displayed this week at CEDIA EXPO 2009. The NetCast network also supports content from Netflix, Roxio CinemaNow, and YouTube.
The VUDU high-definition library consists of approximately 2,200 titles that stream almost instantly. VUDU's HDX format offers full 1080p with Dolby Digital Plus 5.1.
LG BD 390 Network Blu-ray Disc Player
| Reg.
$379.99
| Sale: $277.95 |
Order Now