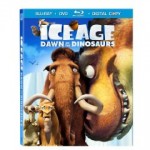 "Ice Age: Dawn of the Dinosaurs" is headed for Blu-ray Disc release on Oct. 27. The 3-disc Blu-ray set will also include a digital copy and standard DVD version of the film.
The disc set will include two deleted scenes, director's commentaries, and featurettes "Evolution Expedition," "Buck…Easel to Weasel" and "Falling for Scratte," Two short animations featuring Scrat will also be included on the disc, as well as a digital story maker and Fox Movie Channel content.
The Blu-ray Disc aspect ratio will be widescreen 1.85:1 with DTS-HD Master Audio 5.1 Surround Sound.
The animated film, which had its theatrical release in July '09, includes the voices of Ray Romano, John Leguizamo, Denis Leary and Queen Latifah.
Ice Age: Dawn of the Dinosaurs is currently available for pre-order
on Amazon for $27.99, 30%-off the suggested retail price of $39.99.