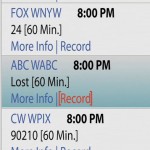 Verizon has added a couple cool features for their customers with FiOS TV DVRs which had previously only been available to those with FiOS TV Home Media DVRs. The cooler of the features is the ability to program your DVR from any internet-enabled cell phone.
Picture this, you're at the movies and remember there is a game on TV you want to watch. Just access the scheduling, browse for the game, and set it to record. When you get home you'll have a complete night of entertainment.
To access the TV schedule from a mobile phone you can visit the URL http://m.verizon.com/tv from your mobile web browser. If you have a Verizon wireless account you can go to "Get it Now – Tools on the Go" on your phone or search for FiOS TV Remote DVR and download the application.
The other added feature is called "FiOS Media Manager" and it easily allows DVR users to play content from their computer, flash drives, digital cameras, and even cell phones.
You need to first install the Media Manager on your computer. That web address is: http://www36.verizon.com/fiostv/web/members/MediaManager.aspx. Once you have installed the software on your PC access the Media Manager option in the FiOS guide.
Verizon customers with TV DVRs must also have internet service from FiOS to use the features.