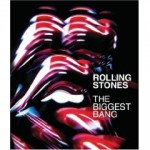 The Rolling Stones: The Biggest Bang will be coming to Blu-ray Disc on June 16. The release from Universal Music Group will feature a 93 minute concert from Austin, Texas, and include a 70 minute documentary titled "Salt of the Earth." This is the second Rolling Stones release on Blu-ray, the first being Martin Scorsese's Shine a Light released last year.
The new release will feature 19 songs from the group's Zilker Park concert in Austin, and additional songs from performances around the world. The documentary will include footage from tours in Argentina, Japan, and the group's first time in China.
'The Biggest Bang' has a total run time of 182 minutes and is currently available for pre-order on Amazon.
Check out highlights of the disc below:
Rolling Stones: The Biggest Bang features:
Live from Zilker Park
Austin, Texas (93 min.)
1. Opening
2. You Got Me Rocking
3. Let's Spend the Night Together
4. She's So Cold
5. Oh No. Not You Again
6. Sway
7. Bob Wills Is Still The King
8. Streets of Love
9. Ain't Too Proud To Beg
10. Tumbling Dice
11. Learning The Game
12. Little T & A
13. Under My Thumb
14. Get Off My Cloud
15. Honky Tonk Women
16. Sympathy For The Devil
17. Jumpin' Jack Flash
18. (I Can't Get No) Satisfaction
19. Brown Sugar
Salt of the Earth
A Bigger Bang Tour Documentary – 70 min
1. How Did It Begin?
2. North American Tour
3. Super Bowl
4. Back Of My Hand
5. Rio
6. China
7. Milan
8. Buenos Aires
9. Midnight Rambler
10. Last Show
Bonus Feature #1 -Austin Mini-Documentary  6:00 min.
Bonus feature #2. Bonus Songs: Saitama Super Arena, Saitama, Japan (13 mins.)
1. Let's Spend The Night Together
2. Rain Fall Down
3. Rough Justice