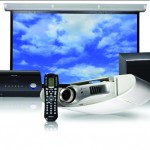 (Press Release) Epson today announced that its multi-award winning Ensemble HD(TM) Home Cinema System is now available with the company's latest 3LCD 1080p front projectors. The PowerLite(R) Home Cinema 6100 and Home Cinema 6500 UB offer home entertainment and AV enthusiasts two outstanding options for an incredible viewing experience with Ensemble HD.
The Ensemble HD Home Cinema System is a fully-integrated, high-end home entertainment solution for viewing movies, TV and playing video games. With a motorized 100-inch screen, integrated surround sound, AV controller with built-in DVD player, universal remote and virtually all components needed for installation, the unique system can transform any home's living or family room into a dual-purpose living and entertainment area without compromising space or the room's decorative integrity.
"Available now with two of Epson's best performing home theater projectors, the Ensemble HD Home Cinema Systems provides arguably the greatest true home theater value in the industry," said Rajeev Mishra, director, Projector Marketing and Development, Epson America. "As a global leader in projector technology, Epson's commitment to lowering home theater cost of ownership is at the core of everything we do. Our decision to offer this impressive entertainment system online for home cinema enthusiasts who want to install it themselves was a logical step in meeting the needs of this growing market."
The Ensemble HD Home Cinema System is available in three models to meet varying consumer needs, ranging from entry-level families looking for an affordable home theater solution to AV enthusiasts looking for the best performance and feature-set. Pricing for the models includes $4,999 for the Ensemble HD Home Cinema 720p, $6,499 for the Ensemble HD Home Cinema 6100 and $7,999 for the Ensemble HD Home Cinema 6500 UB. Available directly online at select retailers such as Visualapex.com and Projectorpeople.com, consumers interested in do-it-yourself projects and undertakings will now be able to install Ensemble HD themselves. For consumers who prefer professional installation, the system can also be purchased through Epson's authorized dealers and installers.
Since its launch, the Ensemble HD Home Cinema System has received numerous awards and accolades, including an Honoree designation in the 2008 CES Innovations Awards, 2008 Excite Award, 2008 AVS Forum Product Appreciation Award, Projector Review's Outstanding Product Award, and more. For additional information, please visit the Ensemble HD Home Cinema System fact sheet.