Heavy metal legends Iron Maiden are going hi-def this summer with the release of a film documenting their "Somewhere Back In Time Tour" from last year. The 2-disc Blu-ray Disc titled "Flight 666" will contain the tour documentary film and concert for a total of 216 minutes of pure Maiden.
The documentary film will cover the first part of the tour, as Maiden travels to India, Australia, Japan and South America. The concert disc will include sixteen songs from sixteen different cities in eleven countries.
The Blu-ray Disc and DVD will be released in the U.K. on May 25 and in the U.S. on June 9. The standard-def DVD will be available as both a Standard Double DVD and deluxe Double DVD (which comes with a limited edition 26-page booklet).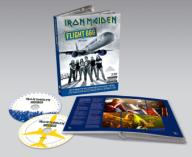 A double-CD soundtrack album and limited edition double-vinyl picture disc will also simultaneously be released. Maiden band manager Rod Smallwood said of the upcoming release, "This closes the chapter on an absolutely brilliant experience delving into the past for the band, myself and my team, the crew and hopefully all of you fans out there."
And here's another bit of news. Smallwood also noted the band would be working on a new studio recording this summer scheduled for release in 2010.