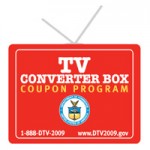 If you haven't got your federally funded digital converter coupon yet, you may be one of those who finally took note of the transition and are now waiting in line for unused coupons to expire. If you don't want to wait, the digital converters are available at retail stores and are not that much of an investment. $50 for free digital television forever? It's not a bad deal.
We put together some resources for both receiving and donating coupons, as well as what to do once you've got your coupon and are ready to go digital.
Retrevo.com has a coupon exchange program. When you go to their site and click on "I HAVE" or "I NEED" a coupon the site takes you to an easy sign-up page that only requires your email and optional zip code. If you have an extra coupon you will be matched up with someone you can mail it to or who is close enough to pick up. If you need a coupon it is essentially the same except you will be contacted when one becomes available.
DonateDTV.com is a similar site which just launched this week except they make the exchange service much simpler by requiring you to enter the 16 digital coupon number. Once the number is submitted, you can no longer use the coupon because someone else will. DonateDTV.com is a local service in the Minneapolis and St. Paul areas but I'm sure they wouldn't mind getting a coupon donated from an out-of-stater.
TitanTV just recently launched CheckDTV.com which shows television viewers what digital channels they can receive with an antenna. You may already know that digital transmissions are more sensitive than analog and so two other partner sites provide even more useful information. TitanTV.com shows viewers a program guide and what HDTV content is available in a specified zip code. AntennaWeb.org helps TV viewers pick the appropriate digital over-the-air antenna, and which way to direct it.
And of course DTV.gov is where you can go to get first hand information from the government's own digital transition initiative. You can also become a DTV Deputy at http://www.dtv.gov/dtvquiz.html if you are interested in learning more about the technical aspect of the transition. You can also apply for a converter coupon at DTV2009.gov.
NOTE: The Associated Press reported this week the NTIA (National Telecommunications and Information Administration) was allowed more funding for digital converter coupons thanks to the economic stimulus plan. New coupons will be coming soon and this time mailed "first class."
Related articles:
Current list of approved DTV converters
Getting HD channels over the air, what you need to know
Shop for digital converters at Amazon.com
.