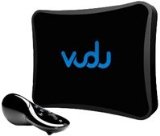 VUDU is now selling hi-def content, saying it's the first to do so among on-demand providers. The HD movies can be downloaded to the VUDU 1080p Internet Movie Player for between $13.99 and $23.99. The list will start with 50 titles available in HD from independent studios FirstLook, Kino, and Magnolia.
Previously those who downloaded VOD material, with the exception of media players like iTunes (which offers 720p content but at a lower bitrate), were restricted to renting, rather than owning. This gives the on-demand service a temporary edge and you can expect other VOD providers will follow suit. Let's hope additional studios jump on board as well.
Movies available for purchase in both instant HD and HDX format will be priced the same. The higher quality HDX format was designed for larger HDTVs and uses VUDU's TruFilm technology to produce sharp and artifact free images.