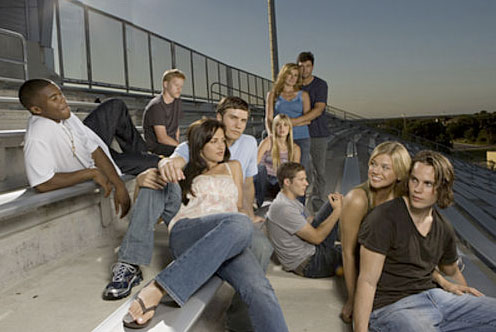 Friday Night Lights Season 3 will debut tonight on NBC in HD. But the new season will not be without any spoilers, as the show has already aired last Fall on DirecTV. So while the show's third season will have its second premiere, it has a chance to build a bigger audience who didn't catch it via satellite.
The 13 episode season of Friday Night Lights, which ended this week, had an estimated audience of 600,000 on DirecTV. Previously, when NBC aired Season 2 the show averaged 6.2 million viewers.
The unique deal struck between NBC and DirecTV gave the satellite provider exclusive rights to air the program first, in exchange for picking up some of the production costs of the show.
According to an LA Times article, head writer Jason Katims said, "The first half of the experiment has gone very well. DirecTV is very happy with the viewership that they've gotten, and how it's been perceived. The question is how it's going to do on NBC."
Friday Night Lights is a critically acclaimed show about high school football team the Dillon Panthers, of the now fictional town of Dillon, Texas. The show takes on some of the issues happening in Middle America, focusing on the team's coach, players and students who make up the small town.
The third season premieres tonight "again" in both standard and high definition on NBC at 8:00 ET.