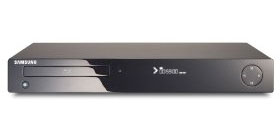 Prices of Blu-ray players are dropping, but when is the best time to buy? You can currently get a generic brand BD player for around $230 from big box retailers like Circuit City, Walmart, and Target. And, discounted BD players like the Samsung BD-P1500(pictured right) are sometimes available. But if that isn't cheap enough for you, some industry experts predict $150 BD players the day after Thanksgiving.
Blu-ray Disc prices have also been going down, although not as consistently and dramatically as Blu-ray hardware. The average price of a Blu-ray Disc on Amazon.com is $23. That isn't too far away from the average cost of a new release DVD. Blu-ray disc prices generally range from about $14.99 to $34.99 depending on the movie.
So when is the right time to buy?
Some experts say Black Friday (the day after Thanksgiving) is when you will see $150 Blu-ray players. I would expect those players will not be top brand names like Sony and Samsung. But with any luck an entry level Sony Blu-ray player will break $200. Industry analysts also say there will be deep discounts in LCD and plasma flat-screens this holiday. The best advice may be to wait until Thanksgiving, or wait until after the holiday when retailers will be looking to move out some stock from 2008.
How popular is Blu-ray?
Although widely embraced already by home theater enthusiasts and those of us who live for new technology, Blu-ray still hasn't been embraced by the mainstream. According to Nielsen VideoScan, only 4% of U.S. movie disc sales are Blu-ray Disc.
Many DVD collectors seem to be satisfied with the quality of their DVDs. And, new up-scaling DVD players (which can convert a standard-definition DVD to high-definition 720p, 1080i, or 1080p) are getting better and better in performance. I once calculated what it would cost to replace my DVD collection with Blu-ray and it was around $5k. Needless to say, many of those films will just never be upgraded to 1080p.