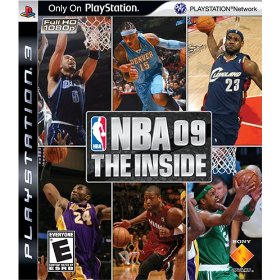 NBA 09 The Inside is now available for Playstation 3 in North America. The 1080p High-Definition game from Sony features character customization, unique gameplay modes and mini-games. Additional features include "Franchise" mode, "The Life" on PS3, and an expanded "Team Progression" mode.
"NBA 09 The Inside once again showcases the development talent at SCE WWS San Diego Studio and their efforts to create the best NBA game available," said Scott A. Steinberg, Vice President, Product Marketing,
SCEA.
A first on PS3, NBA 09 The Inside includes "The Life," where you can experience the life of an NBA pro basketball player off the court. Another first is "Franchise Mode," where players can try running a team by managing drafts, trades, and salaries. "Team Progression" rewards players for game exploration and advancement by providing numerous customizable player options.
NBA 09 The Inside is also available for Sony PS2 and PSP.