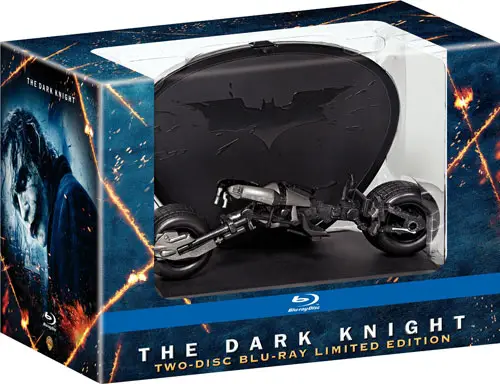 Warner Home Video announced it would be releasing the latest Batman theatrical release The Dark Knight on Blu-ray Disc Dec. 9. The film grossed over half a billion dollars in the box office in the U.S. alone, and twice that worldwide. The Blu-ray Disc release is sure to be best seller, with Warner releasing it on DVD, Blu-ray single disc, and Blu-ray 2-Disc Limited Edition.
The Dark Knight will be formatted in widescreen 2.4:1 with 5.1 Dolby TrueHD audio and of course 1080p resolution.
Features on the Limited Edition are:
* Exclusive Bat-Pod Display Case
* Gotham Uncovered: Creation of a Scene
* Batman Tech: The Incredible Gadgets and Tools (HD)
* Batman Unmakes: The Psychology of the Dark Knight (HD)
* Gotham Tonight – 6 Episodes of Gotham's news program
* The Galleries – the Joker Cards, Concept Art, Poster Art, Productions Stills, Trailers, TV Spots
The packaging uses a Peter Travers (Rolling Stone) quote in which he said "Prepare to be Wowed." Yes, no doubt, this will be a showcase title for Blu-ray and high definition home media. If only they could fix Batman's death metal voice, this would be the perfect sci-fi/action film.