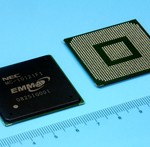 NEC announced it has come up with a new Single-Chip LSI named EMMA 3PF that is 50% smaller than previous chips, therefore reducing part production costs and space requirements. That means new Blu-ray players could end up smaller and less expensive because of the new size and combined functions into one chip.
All functions necessary for Blu-ray playback are now built into one chip including the digital conversion of analog data read from optical discs and the digital decoding of encoded images and sounds. For output to television, the chip contains functions for HDMI (High-Definition Multimedia Interface) coding.
Other features of the EMMA 3PF include, of course, support for Blu-ray Disc specifications for audio and video playback, a multi-core CPU and graphics accelerator, and backward compatibility for existing software.
Sample shipments of the EMMA 3PF single-chip solution will begin in September 2008. It is expected that the new chip should accelerate Blu-ray player market saturation by reducing cost of production.