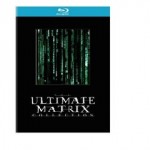 Yet another Keanu Reeves Blu-ray release slated for October 14th, The Ultimate Matrix Collection will be released along with graphic novel based Constantine. Should we name October 14th "Keanu Reeves Day?" Two great films being released the same day on BD…the only question is which should I pick up first?
The Matrix, while revolutionary for its time, does seem a bit dated in moments. The "Matrix-branded" 360-degree camera movements wowed fans at the time, but ended up being so overused in the industry that its effect seems to have been reduced to more of a gimmick.
Its also hard to overlook the bad 3d modeling of a staff wielding Neo jumping on the heads of hundreds of Mr. Smiths. The third release, Matrix Revolutions was criticized by some as being a bit "over-the-top," especially in its script. And, the magical kiss from Trinity that brings Neo back to life reaches the peak of corniness.
But those are not reasons enough not to buy the Blu-ray Disc trilogy. I own the HD DVD version and the films are of a tremendous quality that shouldn't be missed in high-definition. The only thing that may keep me from buying the set is the $129.95 retail. Constantine is also a "must have" for your high-def library. The single-disc will retail for $28.99.
The Ultimate Matrix Collection will come with hours of features including Warner Home Video's In-Movie Experience, the nine-part film The Animatrix, (for the first time in high-definition,) and a digital copy of the The Matrix for portable devices like iPods.