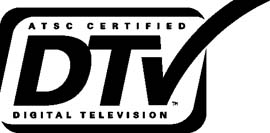 The digital transition coming to the U.S. in February of 2009 has got some folks excited, others confused and many feeling indifferent about the change. But there is something everyone should be excited about, and that's multi-casting.
Not only does DTV (digital-television) allow for sharper, more reliable images and Dolby 5.1 Surround Sound, it also allows for multi-casting. Multi-casting is the use of the bandwidth to broadcast multi-channels. Because digital transmissions take up less space than analog, additional channels can run parallel to each other.
If you haven't had a chance to see multi-channels in action, the channels are represented as 5-1, 5-2, 5-3, and so on. Currently, analog channels take up the space on single digit channels, for example, channel 5. When February 17th comes along that space will be opened up for more digital broadcasting.
The beauty of multi-casting is that a wide range of programming can be offered, and all in digital quality. Best of all, you don't need a television service provider to get the channels. Local broadcast stations transmit the signals over-the-air. A digital television with an antenna is all you need pick up the channels. If you don't have a digital TV you can get a converter box which the government offers coupons for. For information at dtvtransition.org.
Digital television has also allowed for the transmission of high-definition (HD) signals. If you have an HDTV, you only need an antenna to start enjoying incredible imagery and sound. Most HD channels are located on the channel's first number – for example 2-1, 4-1, 5-1, etc.
Video transmitted over-the-air is generlly uncompressed (beyond the initial compression method which is usually MPEG-2 or MPEG-4.) And audio, while it usually transmits at a lower volume than it would from satellite, cable or fiber-optic providers, is uncompressed and really worth listening to.