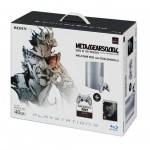 Metal Gear Solid 4: Guns of the Patriots, sold 464,926 copies in Japan during the first week of release. The game went on sale on June 12, and stayed at the top of the software charts. GameSpot UK reports that the release of MGS4 also boosted PS3 sales, up from 10,846 units the week before to 75,311 the week of the release.
There were two editions of the game released in Japan. The releases include the MGS4 premium pack and the PS3 MGS4 Welcome Box.
The MGS4 Premium Pack includes the gun metal "Hagane" 40GB Playstation 3, Metal Gear Solid 4 Special Edition Game (two-disc set), PS3 "Hagane" Dual Shock 3 Controller, and a bonus "Making Off" on Blu-ray Disc.
The PS3 MGS4 Welcome Box comes with the 40GB console in Clear Black, Ceramic White and Satin Silver, Dual Shock 3 Controller, and Metal Gear Solid 4 game.