Netflix may have lost a few subscribers when they decided not to support the HD DVD format any longer, but they may be picking up more than a few subscribers when with their streaming service starts offering HD movies.  A new set-top box promises high-definition titles streaming to your television.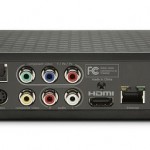 The company's new set-top box from Roku gives subscribers unlimited access to movie titles. The $100 box connects to broadband internet via an ethernet cable or WiFi connection. And, while there are currently no HD movies available, it supports HDMI and component video. (Standard definition televisions can be connected via composite or s-video.)
The Netflix service is a streaming service rather than download service like Apple TV. This means that you must have a consistent internet connection. However, the titles are always available and never expire. There are currently only 10,000 of Netflix's 100,000 titles available to download.
The new service is sure to give Apple TV and Vudo some competition in the IPTV business. Even more interesting, at $8.95 a month and a set-top box that costs $100 less than Apple TV, once the Netflix service offers high-definition titles it may become Blu-ray Disc's biggest competitor. The only obstacles may be in their title offerings and whether or not they will up the subscription fee for HD movies.