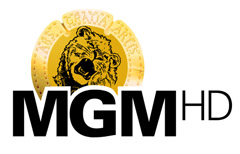 MGM HD, a channel which runs films from the MGM library in high-definition, will now be available to Time Warner Cable customers. This is according to an announcement made today by Douglas A. Lee, Executive VP of Worldwide Digital Media, MGM. "This is a great opportunity for us to make MGM HD available to more consumers across the country," he said.
Metro-Goldwyn-Mayer's "MGM HD" is the company's first channel in the U.S., delivering classic and contemporary films in high-definition at a resolution of 1080i. The studio owns the "world's largest" library of modern films at around 4,100 titles
Time Warner Cable is the second-largest cable operator in the U.S., with subscribers mainly in New York State, North and South Carolina, Southern California and Texas. They have approximately 14.7 million customers using its television, internet and voice services.