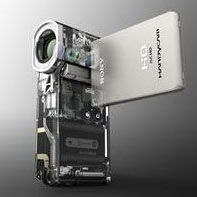 Very cool, very tiny — the new Sony HDR-TG3E 1080 handycam is set for release in Europe next month. Europeans can pre-order what Sony is calling the world's smallest full HD (high definition) handycam.
The body is pure titanium, the microphone Dolby Digital 5.1 channel surround, and the image — 1920×1080 resolution. The camera uses a ClearVid CMOS Sensor with Exmor and a BIONZ image processor. It also features a BRAVIA Sync which will allow you to control the camera with your TV remote.
What I would like to try is the "Face Detection" feature which is supposed to automatically adjust focus and adjust exposure and color balance for better portrait shots. Sony says it can recognize up to 8 faces in a scene.
Some common features include recording on a memory stick, taking stills at 4.0 megapixel (not bad for a handycam), and touchscreen LCD that allows you to access an index to find particular scenes.
Couldn't find a price on the Sony Style Europe website yet.