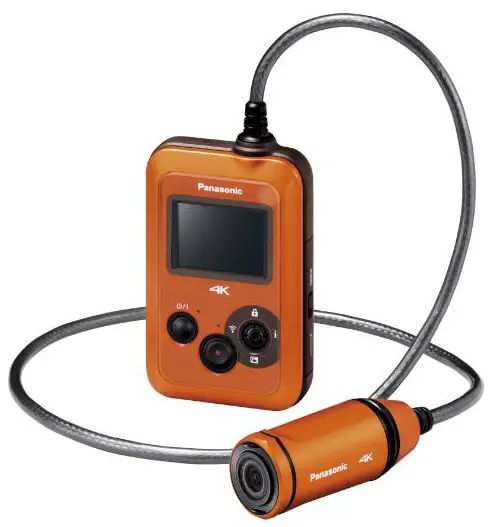 For those times when you need to shoot 4k video but also need your hands free, Panasonic has revealed the wearable HX-A500 4k/30p camera. The HX-A500 can shoot up to a maximum 160 degree ultra wide angle, and includes slow motion at several resolutions including 1920 × 1080 (60 fps); 1280 × 720 (120 fps); and 848 × 480 (240 fps).
This camera is built a bit different from the popular GoPro cameras in that the lens portion of the camera is separate from the slightly larger body portion of the system with a 1.5-inch color LCD display.
For low light environments the HX-A500 utilizes a 1/2.3-inch BSI sensor that Panasonic boasts captures less noise than other sensors. Image processing is handled by the camera's Crystal Engine Pro+ processor, and the camera's Level Shot and Image Stabilizer functions allow improved video capturing of fast moving subjects.
The camera also includes Wi-Fi and NFC to connect to your 3G/4G LTE-networked phone or tablet, meaning, you can easily upload and share videos or even broadcast your live video feed via USTREAM.
And, the camera is rated to be waterproof for 30 minutes in up to 10 feet of water, as well as "dustproof" for shooting video in any situations.
The Panasonic HX-A500 will be available in July at Panasonic.com and other electronics retailers.