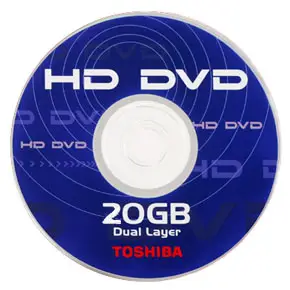 According to a recent announcement at the DVD Forum, the 51 GB HD DVD disc may NOT work on existing HD DVD players. This could be a potential disaster for Toshiba, who, along with Sony are doing everything they can to get their respective players into consumers homes.
It's bad enough that both parties are challenged with getting expensive high-def players into homes. If Toshiba doesn't get this disc to work on their existing models they could face alienation of current and potential users. A firmware upgrade via internet connection would be a welcome solution to consumers, many of them understanding technology's rapid evolution.
The reality is that most movies don't need 51 GB of space to deliver a high-def movie. The current 15 GB double-sided combo discs seem to work just fine. It will be the longer than normal titles that will be trouble.
Current solutions include splitting the movie into two 15 GB discs, or
printing 15 GB double-sided discs. Both of these options will the only viable solutions. Asking consumers to buy a newer HD DVD player that can read 51 GB discs is not.