Dirty Dancing (Lionsgate) (Blu-ray)
Featuring: Patrick Swayze, Jennifer Grey, Cynthia Rhodes, Jerry Orbach, and Jack Weston
Oh, Baby! This disc is simply filled with features! While a bit different than the standard-def DVD release from a few years back ("Ultimate Edition"), it retains many of the best features from that release while adding a few new ones including a nice tribute to the wonderfully talented Jerry Orbach. Celebrating 25 years since the original theatrical release, the characters (and quotable lines) remain memorable, and this well-made film (by low-budget standards) remains a cut above similar fare. Taking place at a Catskills resort in the early 1960's rather simple story might have been cribbed from parts of Footloose (and a little bit of The Karate Kid thrown in) with its rebellious dancing a metaphor for the burgeoning sexuality of its teenage character as well as a bridge between generations and classes.
Patrick Swayze makes burning passion and "dirty" dancing look easy, while Jennifer Grey makes you believe in Baby, with her family difficulties, including then taboo subjects of abortion and her own coming-of-age confusion that leads ultimately to love and her own independence as a young woman. This was (and in many ways still is) the de-facto romantic classic for teen girls, at least until Titanic overshadowed it in the 1990's and is a must-have for any video library; however, the hi-def release, being a single disc effort with a ton of features (add to this those features are all in hi-def resolution) means the transfer is a bit sub-standard for hi-def with plenty of grain and faded color apparent, but also a certain lack of crispness (though touted as a re-mastered 1080p transfer (it is), it's simply as good or a bit better than the standard-def release's image in my opinion [note, the standard-def 20th anniversary releases, subsequent with the Blu-ray, is a 2-disc effort with the video spread out on a single disc with commentaries… hence my slight dissatisfaction with the Blu-ray release).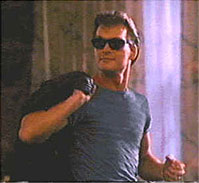 It's widescreen, of course, in it's theatrical release 1.85 aspect ratio. On the other hand, there's a like, totally powerful audio mix that's outstanding. Nobody puts this audio mix in the corner… you get all the benefits of the popular 80's soundtrack in both the uncompressed PCM 6.1 surround mix (all channels sound impressive, with dialog mixing nicely with the music) and the Dolby Digital EX 5.1 mix. Both tracks are in English only. As for the features, you'll have the time of your life going through them all including
· Commentary with Eleanor Bergstein
· Multi-voice Commentary (feat. Choreographer Kenny Ortega, actress Miranda Garrison,
cinematographer Jeff Jur, costume designer Hilary Rosenfeld and production designer David
Chapman) (special Blu-ray only feature)
· Dirty Dancing 20th Anniversary Pop-Up Trivia Track (special Blu-ray only feature)
· Dirty Dancing with Patrick Swayze
· Tribute to Jerry Orbach
· Deleted Scenes
· Alternate Scenes
· Extended Scenes
· Outtakes
· Original Screen Tests
· Multi-angle Dance Sequences
· The Classic Story on Stage
· Photo Gallery
· Jennifer Grey Interview
· Eleanor Bergstein Interview
· Kenny Ortega Interview
· Emile Ardolino Tribute
· Music Videos:
· "Hungry Eyes"
· "She's Like the Wind"
· "(I've Had) The Time of My Life"
So, what are you waiting for… though the video quality is simply okay for the Blu-ray format, the 6.1 PCM audio and nicely assembled feature list make this one worth a buy for your hi-def library.