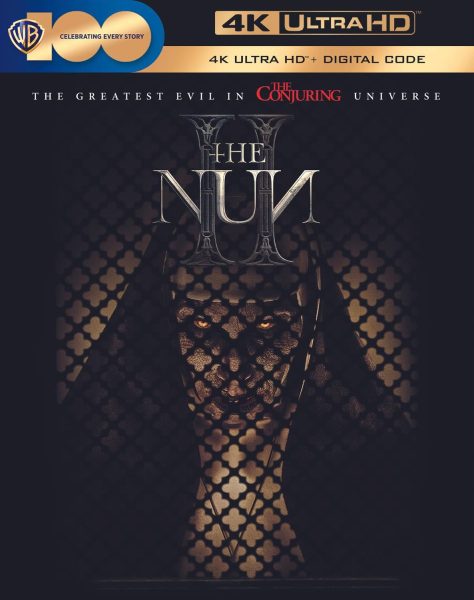 The Nun II is releasing on disc and digital. The film will first be available in digital formats including 4k UHD on October 3, followed by Blu-ray, 4k Blu-ray, and DVD on November 14, 2023.
On 4k Blu-ray, Blu-ray and DVD the film has been packaged in physical media editions that celebrate the 100th Anniversary of Warner Bros. Studios. And, each physical media edition comes with a code to redeem a Digital Copy.
Special features with the 4k Blu-ray, Blu-ray, and Digital Copy include "The Nun II: Demon in Paradise" and "Handcrafted Nightmares."
On 4k Blu-ray and in Digital 4k UHD, Nun II is presented in 2160p resolution with HDR10 (4k Blu-ray) or Dolby Vision (Digital 4k). The soundtrack is provided in Dolby Atmos / Dolby TrueHD 7.1 channel audio on 4k Blu-ray, Blu-ray, and in Digital 4k UHD. Subtitles are provided in English SDH, French, and Spanish.
Nun II is priced $34.98 (4k Blu-ray), $22.99 (Blu-ray), $23.97 (DVD), and $24.99 (Digital) on Amazon.
Bonus Features: THE NUN left audiences hungry for answers! Dig into Valak's roots and explore Sister Irene's possible bloodline connections within the Conjuring Universe. Discover the inspiration for Valak's new manifestations and meet the French artists who brought the practical horrors to life in a look behind the hood of THE NUN II, the sequel to the worldwide hit that follows Sister Irene as she once again faces off with the evil force Valak – the Demon Nun.
Byline: 1956 – France. A priest is murdered. An evil is spreading. The sequel to the worldwide smash hit follows Sister Irene as she once again comes face-to-face with Valak, the demon nun.