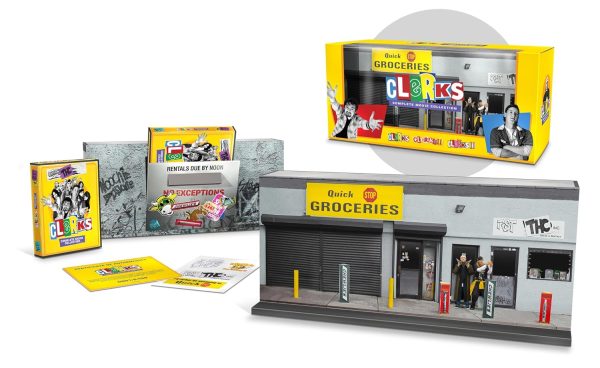 Kevin Smith's three Clerks films have been packaged in this collectible edition from Lionsgate Home Entertainment. The famous Quick Stop grocery store is represented in miniature, along with a working VHS return slot from RST video, cling stickers, and certificate of authenticity.
On Blu-ray Disc, Clerks films are presented in 1080p (Full HD) with audio in DTS-HD Master Audio 5.1 (Clerks), Dolby TrueHD 5.1 (Clerks II), and Dolby Atmos (Clerks III).
The Clerks I-III Premium Box Set arrives November 7, 2023, with an MSRP of $129.99 US. See on Amazon
Description: Get ready for a shift-load of fun! This limited-edition set holds all three Clerks films on Blu-ray and Digital in a 3D miniature of the iconic Quick Stop and RST Video storefronts. The package also features a working VHS return slot, so you can safely store the discs without running up late fees. Feel free to vandalize the rental-return "wall" using the included set of cling stickers, featuring in-world business logos and IYKYK jokes from the franchise. Follow your favorite Gen-X icons as they go from jaded, disenfranchised store clerks in Clerks through their three-decade journey to small business owners in Clerks III, balancing rooftop roller hockey with the absurdities of work and life.
Clerks (1994)
Video
Resolution: 1080p
Aspect ratio: 1.78:1
Audio
English: DTS-HD Master Audio 5.1
Subtitles
English SDH, Spanish
Clerks II (2006)
Video
Resolution: 1080p
Aspect ratio: 1.78:1
Original aspect ratio: 1.85:1
Audio
English: Dolby TrueHD 5.1
English: Dolby Digital 5.1
French: Dolby Digital 5.1
Subtitles
English SDH, Spanish
Clerks III (2022)
Video
Resolution: 1080p
Aspect ratio: 1.90:1
Original aspect ratio: 1.90:1
Audio
English: Dolby Atmos
English: Dolby TrueHD 7.1
French: Dolby Digital 5.1
Subtitles
English SDH, French, Spanish