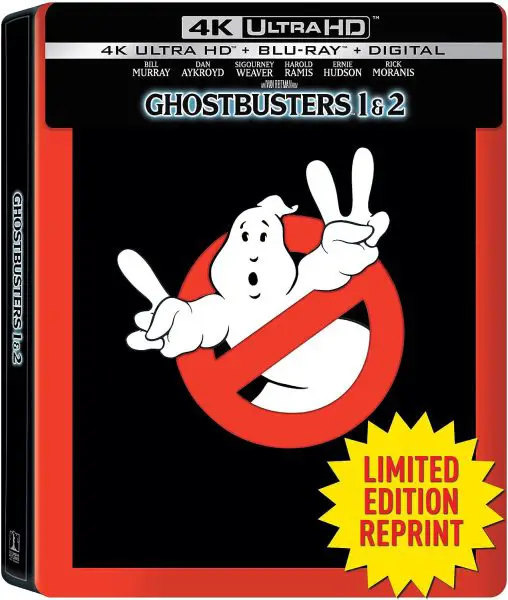 The Ghostbusters 1 & 2 double feature on 4k Blu-ray has been reprinted in Limited Edition SteelBooks for release on September 26, 2023. The original edition from 2019 has been sold out, giving Ghostbusters fans another chance to own the SteelBook bundle.
The 5-disc edition from Sony Pictures Home Entertainment includes both Ghostbusters (1984) and Ghostbusters II (1989) on 4k Blu-ray, Blu-ray, and Digital (via redeemable code). A fifth disc contains bonus features.
On 4k Blu-ray, both Ghostbusters films are presented in 2160p at 2.40:1 aspect ratio. The soundtrack is formated in Dolby Atmos compatible with Dolby TrueHD 7.1. Subtitles are provided in English SDH, French, and Spanish.
Ghostbusters 1 & 2 Limited Edition SteelBook Reprint is priced $43.49 (List: $65.99) on Amazon.
Synopsis: The classic supernatural comedies that defined a generation: Ghostbusters and Ghostbusters 2, together in this special collector's edition Blu-ray set. Celebrate 30 years of the Ghostbusters franchise with remastered high-def picture & sound for both movies, plus all-new and never-before-seen special features. Plus, explore the history of the films with this deluxe collector's edition, loaded with production notes, character sketches, insider info and more. Bring home these spooktacularly successful films that captured the imagination of audiences around the world—and redefined the action-comedy genre in the process. Who you gonna call? UHD release: The classic supernatural comedies that defined a generation:
Description: GHOSTBUSTERS and GHOSTBUSTERS II, together in a limited edition 4K Ultra HD Steelbook® with never-before-seen special features! In the original GHOSTBUSTERS, Peter Venkman (Bill Murray), Ray Stantz (Dan Aykroyd), Egon Spengler (Harold Ramis) and Winston Zeddemore (Ernie Hudson) go freelance with a new ghost removal service. As soon as they open their doors, their first order of business becomes saving beautiful cellist Dana Barrett (Sigourney Weaver) and nerdy Louis Tully (Rick Moranis), who've inadvertently opened the gates of hell! Then in GHOSTBUSTERS II, the superstars of the supernatural reunite to battle an enormous underground river of slime that threatens New York City!