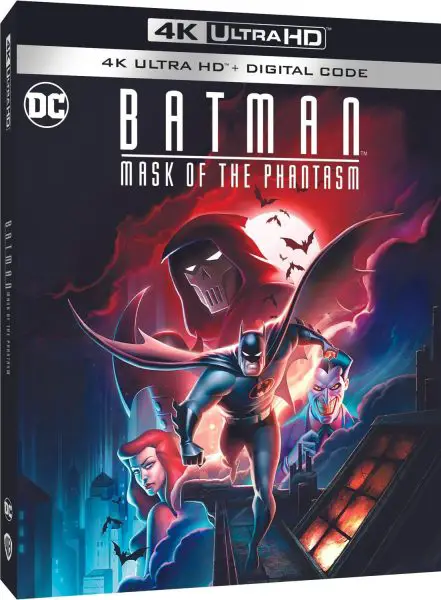 Classic animated feature Batman: Mask of the Phantasm (1993) has been upgraded to 4k Blu-ray and will release on September 12, 2023.
The packaged media edition includes a Digital Copy and the bonus feature titled "Kevin Conroy: I am the Knight."
The Warner Bros. movie was previously upgraded to 1080p (HD) Blu-ray and released in 2017.
On 4k Blu-ray, the movie is presented in 2160p with HDR10. The soundtrack is provided in DTS-HD Master Audio 5.1. Subtitles are offered in English SDH, French, and Spanish.
Directed by Bruce Timm, Batman: Mask of the Phantasm runs a total of one hour and sixteen minutes and stars Kevin Conroy as the voice of Batman/Bruce Wayne. Additional voiceover actors include Dana Delany, Stacy Keach, Abe Vigoda, and Mark Hamill as the Joker.
Batman: Mask of the Phantasm on 4k Blu-ray with Digital Copy is list priced $33.99. Buy on Amazon
Synopsis: When the city's most feared gangsters are systematically eliminated, the Caped Crusader is blamed. But prowling the Gotham night is a shadowy new villain, the Phantasm, a sinister figure with some link to Batman's past. Can the Dark Knight elude the police, capture the Phantasm and clear his own name?