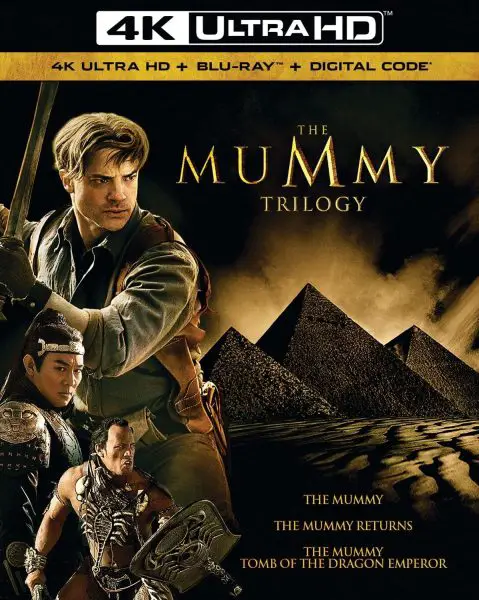 The Mummy Trilogy was first released in 4k on Ultra HD Blu-ray back in 2017, but Universal Pictures Home Entertainment will reissue the 6-disc edition on June 6, 2023.
The number of discs and formats in the combo edition are exactly the same as the first edition, with copies of each film on 4k Blu-ray, 1080p Blu-ray, and Digital (in 4k UHD where available). The word "Ultimate" has been from its nomenclature.
Bonus features are almost the same, although it seems the BD-Live and U-Control features from more legacy Blu-rays are not included in this new 2023 edition.
The packaging has also slightly changed. The new cover art has increased the size of the three pyramids and removed the word "Ultimate" from the title. As well as a slightly different layout on the reverse side, the "DTS: X Headphone" logo has been removed and newer DTS:X, DTS HD, and DTS logos added.
The 4k presentations of The Mummy films feature HDR10 High Dynamic Range for expanded color depth. Audio is provided in DTS:X and DTS-HD Master Audio 7.1.
The 6-disc set comes with plenty of few extras including feature commentary on each Ultra HD Blu-ray. More legacy extras are included on each standard Blu-ray Disc.
The Mummy Trilogy 4k Blu-ray edition is priced $41.99 (List: $59.99) on Amazon.
The Mummy Trilogy Contents
Disc 1 – The Mummy (1999):
Includes a digital copy of The Mummy (1999) (Subject to expiration. Go to NBCUCodes.com for details.)
Features High Dynamic Range (HDR10) for Brighter, Deeper, More Lifelike Color
Feature Commentary with Director/Writer Stephen Sommers and Executive Producer/Editor Bob Ducsay
Feature Commentary with Actor Brendan Fraser
Feature Commentary with Actors Oded Fehr, Kevin J. O'Connor and Arnold Vosloo
Disc 2 – The Mummy (1999):
Deleted Scenes
Feature Commentary with Director/Writer Stephen Sommers and Executive Producer/Editor Bob Ducsay
Feature Commentary with Actor Brendan Fraser
Feature Commentary with Actors Oded Fehr, Kevin J. O'Connor and Arnold Vosloo
The Mummy: Tomb of the Dragon Emperor Sneak Peek
Visual and Special Effects Formation
An Army to Rule the World Part 1
Unraveling the Legacy of The Mummy
Building a Better Mummy
Storyboard to Final Film Comparison
Photograph Montage
Disc 3 – The Mummy Returns:
Includes a digital copy of The Mummy Returns (Subject to expiration. Go to NBCUCodes.com for details.)
Features High Dynamic Range (HDR10) for Brighter, Deeper, More Lifelike Color
Feature Commentary with Director/Writer Stephen Sommers and Executive Producer/Editor Bob Ducsay
Disc 4 – The Mummy Returns:
Outtakes
Feature Commentary with Director/Writer Stephen Sommers and Executive Producer/Editor Bob Ducsay
Mummy: Tomb of the Dragon Emperor Sneak Peek
An Army to Rule the World Part 2
Unraveling the Legacy of The Mummy
Visual and Special Effects Formation
An Exclusive Conversation with The Rock
Spotlight On Location
Storyboard to Final Film Comparison
Live "Forever May Not Be Long Enough" Music Video
Disc 5 – The Mummy: Tomb of the Dragon Emperor:
Includes a digital copy of The Mummy: Tomb of the Dragon Emperor (Subject to expiration. Go to NBCUCodes.com for details.)
Features High Dynamic Range (HDR10) for Brighter, Deeper, More Lifelike Color
Feature Commentary with Director Rob Cohen
Disc 6 – The Mummy: Tomb of the Dragon Emperor:
Deleted and Extended Scenes
The Making of The Mummy: Tomb of the Dragon Emperor
From City to Desert
Legacy of the Terra Cotta
Feature Commentary with Director Rob Cohen