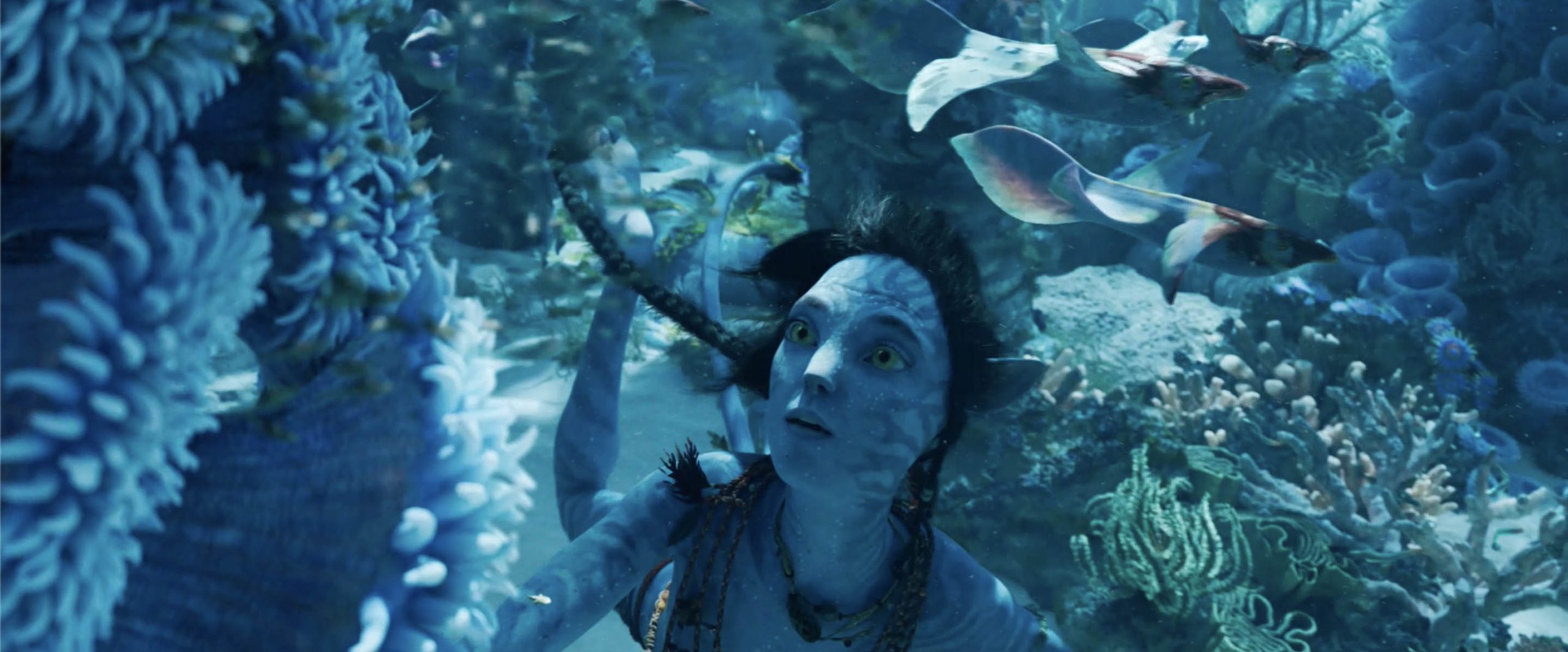 Excellent video quality and immersive audio make this somewhat thin and predictable story a great home theater experience.
20th Century Studios' Avatar: The Way of Water released in theaters worldwide in December 2022. The James Cameron production is a sequel to the pioneering 2009 film Avatar which revolutionized 3D theater and 3D TV technology. The movie (not unlike its prequel) delivers a message about the need for humanity to live harmoniously with nature and adapt to living peacefully with indigenous peoples. 
A technical achievement like no other Avatar: The Way of Water excels in its gorgeous video presentation. And along with an outstanding multi-channel Dolby Atmos track, are reason enough to sit through this 3-hour and 12-minute journey. 'The Way of Water' is best experienced in a home theater environment. The immersive quality of the world of Pandora is certainly more effective the closer the viewer is. But the deeply-layered imagery can be enjoyed on all screen sizes.
In terms of its video presentation, the sky is the limit. Avatar: The Way of Water is a great test of what's possible in the brighter areas of your TV. The movie has such an incredible amount of detail crammed into the highlight areas (as well as the shadow areas) that it can either look exceptional or not so exceptional depending on the screen you watching on. 
Color also has tremendous possibilities. For example, when Pandora is invaded at seven minutes the fires in bright orange are telling of the ability to generate deep color depth. The colors of the Na'vi people, rainforest, and ocean life display a wide palette that is only limited by the screen.
In terms of audio, Avatar: The Way of Water offers audio in object-based Dolby Atmos offering state-of-the-art multi-channel sound. Backed by the music composition created by Simon Franglen, the dialogue is crisp and clear throughout, and well-balanced with other sound layers.  
Some of the most immersive moments in the film happen when the RDA aircraft are hovering through the forests of Pandora. The engines and fans travel through speaker locations and low frequency ranges to create some excellent bass that resonates. The sound effects of the forest are also a highlight, multi-layered and spatially realistic. 
Read our full review of Avatar: The Way of Water in Digital 4k UHD with scores and screenshots.