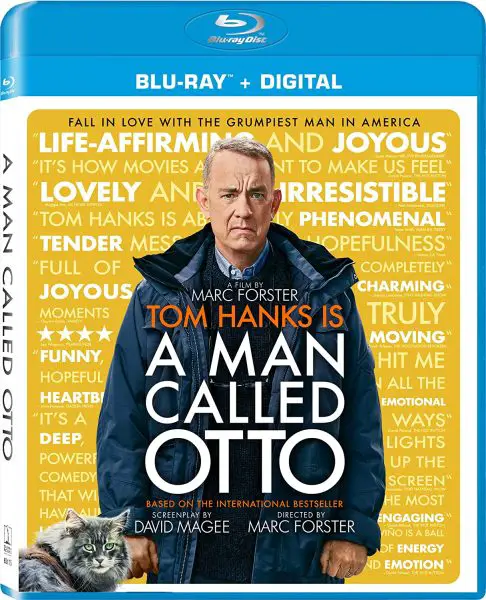 Sony Pictures Home Entertainment will release A Man Called Otto (2022) starring Tom Hanks to disc and digital. The film will first be available in digital formats on Feb. 14 followed by Blu-ray, DVD, and rental options on Mar. 14, 2023.

On Blu-ray Disc, A Man Called Otto is presented in 1080p at 1:85:1 aspect ratio with DTS-HD Master Audio 5.1. Subtitles are provided in English SDH, French, and Spanish.
Special Features
Making of A Man Called Otto
'Til You're Home" Music Video
In the Studio with Rita Wilson & Sebastián Yatra
Deleted Scene
Digital Copy (Blu-ray)
A Man Called Otto (2022) is list priced $38.99 on Blu-ray/Digital, $30.99 on DVD, and $14.99 in Digital HD. Buy on Amazon
Synopsis: Based on the # 1 New York Times bestseller "A Man Called Ove," A Man Called Otto tells the story of Otto Anderson (Tom Hanks), a grump who no longer sees purpose in his life following the loss of his wife. Otto is ready to end it all, but his plans are interrupted when a lively young family moves in next door, and he meets his match in quick-witted Marisol. She challenges him to see life differently, leading to an unlikely friendship that turns his world around. A heartwarming and funny story about love, loss, and life, A Man Called Otto shows that family can sometimes be found in the most unexpected places.