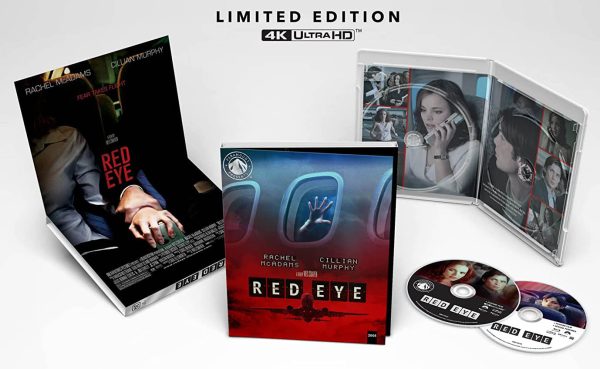 Wes Craven's Red Eye (2005) starring Rachel McAdams and Cillian Murphy is the latest 4k Blu-ray announced for the Paramount Presents series of packaged media. The film will arrive March 21, 2023, in a 2-disc Limited Edition with foldout mini-poster.
On 4k Blu-ray, Red Eye is presented in 2160p with Dolby Vision HDR. The soundtrack is provided in English DTS-HD Master Audio 5.1, as well as French Dolby Digital 5.1. Subtitles are offered in English, French, and Spanish.
New bonus materials include commentary by Editor Patrick Lussier, Filmmaker Focus – Wes Craven and Red Eye, and Wes Craven: In His Own Words. Legacy bonus content includes commentary by Director Wes Craven, Producer Marianne Maddalena, and Editor Patrick Lussier, The Making of Red Eye, Wes Craven: A New Kind of Thriller, and gag reel.
Red Eye (2005) on 4k Blu-ray with Blu-ray copy is priced $39.99. Buy on Amazon
Description: Legendary director Wes Craven (SCREAM) received critical acclaim for this smart, intense, and incredibly Hitchcockian thriller, remastered for its debut on Blu-ray and 4K Ultra-HD. Rachel McAdams is Lisa, a hotel manager catching a red-eye flight back to Miami. Her seemingly charming seat-mate Jackson (Cillian Murphy) turns out to be a terrorist agent, revealing his sinister intentions just after departure. If Lisa doesn't cooperate with his evil plan, her father will be assassinated with one call into a sniper.