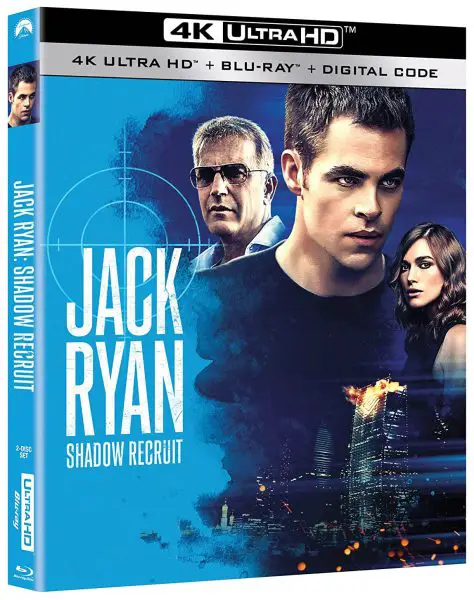 Jack Ryan: Shadow Recruit (2014) starring Chris Pine and Kevin Costner has been upgraded for release on 4k Ultra HD Blu-ray. The 2-disc edition from Paramount Home Media (hitting stores on February 21, 2023) includes a 4k Blu-ray, 1080p Blu-ray, and a code to redeem a Digital Copy.
On 4k Blu-ray, the movie is presented in 2160p at 2.40:1 aspect ratio with Dolby Vision and HDR10 High Dynamic Range. The soundtrack is provided in English DTS-HD Master Audio 7.1 as well as multiple languages in Dolby Digital 5.1.
Subtitles are provided in English, English SDH, French, German, Italian, Japanese, Portuguese, Spanish, Cantonese, Czech, Danish, Dutch, Finnish, Korean, Mandarin (Traditional), Norwegian, Russian, Slovak, and Swedish.
The 4k Blu-ray combo edition of Jack Ryan: Shadow Recruit is priced $27.99. Buy on Amazon
Synopsis: Chris Pine is CIA recruit Jack Ryan (Chris Pine) in this thrilling origin story of the iconic hero from the books by Tom Clancy. Caught in a dangerous web of intrigue and espionage, spun between a shadowy government agent (Oscar Winner Kevin Costner), his unsuspecting fiancé (Keira Knightly) and a fearless Russian power broker (Kenneth Branagh). Ryan must quickly evolve from soldier to analyst to full-fledged operative to stop a devastating terrorist plot against the United States.