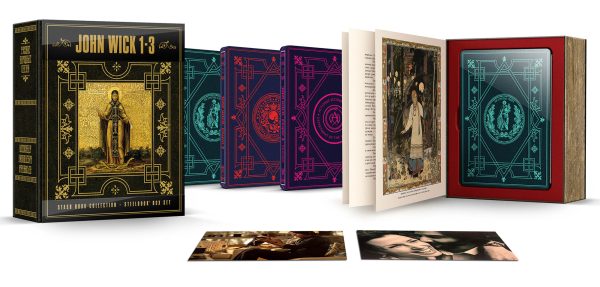 In anticipation of the upcoming fourth chapter in the John Wick film franchise, Best Buy has packaged the first three films in the "Stash Book Collection" releasing February 28, 2023. The physical media release comes about a month before John Wick: Chapter 4 premieres in theaters on March 24, 2023.
The three movies are presented on 4k Blu-ray and Blu-ray (we're presuming Digital Copies are also included, as is tradition with Lionsgate movies) and packaged in SteelBook cases for this boxed set.
The "stash book" is a reference to the collection of Russian folk tales found at the New York Public Library that also serves as Wick's "murder book." The book packaging contains two personal photos from John Wick's past along with several book pages and illustration.
The John Wick 1-3 "Stash Book Collection" SteelBook Boxed Set is a Best Buy Exclusive, priced $79.99 US. Order from Best Buy
Read more SteelBook, 4k Blu-ray and Blu-ray news.