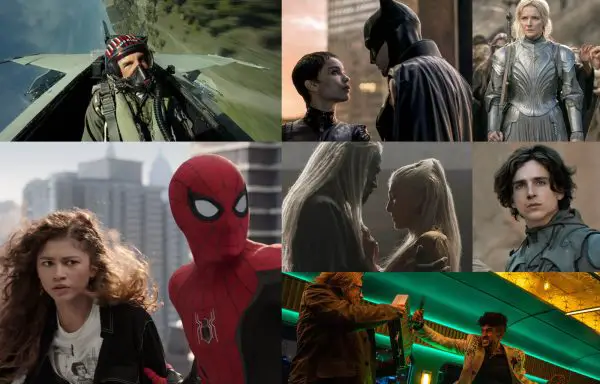 2022 was a huge year for both streaming and physical media, one of which we may never see the likes of again. But which movies and TV series provide the best home theater experiences? Ralph from AVS Forum, DJ from Brightside Home Theater, and Jeff from HD Report sat down to discuss this topic on The Brightside YouTube podcast (watch below).
How were the titles ranked? To determine the best from our shortlists (a total of 15 titles from each of us with 5 being honorable mentions) we used a tabulating system in which the lowest score determined the winner. This is a system that DJ put together and worked great for this venue. 
Among the main factors used to determine the best home theater experiences were video image quality, audio quality, and overall movie experience. On the audio side, you have surround sound offering at least 5.1 channels but that in many cases features immersive Dolby Atmos. On the visual side, you have Dolby Vision and HDR10 that can expand the color depth on screens and projectors that support the format. 
Just to reiterate what was mentioned above, we combined physical media with streaming media this year since streaming has become so much better in terms of home media technology (4k, HDR, Atmos). Bitrates still aren't as high as physical media (usually about a third of what 4k Blu-ray offers) but improvements in video compression have really made a difference.
This was a huge year for home entertainment, but we've narrowed it down to what we think are the best home theater experiences from 2022. Agree? Disagree? Want to add a title? Comment in the YouTube video or at the end of the list to let us know your thoughts!
 The Best Home Theater Experiences of 2022
1. Top Gun: Maverick
2. The Batman
3. Dune (2021)
4. Ambulance
5. The Northman
6. House of the Dragon Season 1
7. Spider-Man No Way Home
8. Star Trek: The Motion Picture – The Director's Cut
9. Edge Of Tomorrow
10. Bullet Train
Honorable Mentions
11. The Lord of the Rings: The Rings Of Power Season 1
12. Moonfall
13. The Godfather
14. RRR
15. Ghostbusters: Afterlife
16. Everything Everywhere All At Once
17. Casablanca
18. Jurassic World: Dominion
19. Pulp Fiction
20. Dr. Strange and the Multiverse of Madness
21. Lawrence of Arabia
22. Stranger Things – Season 4
23. Malcolm X
24. Thor: Love and Thunder
25. Halo
26. Werewolf By Night
27. Last Night In Soho
28. NOPE
29. Singin' in the Rain
30. The Lost Boys
31. The Adam Project
You can find Ralph at AVS Forum, DJ at The Brightside Home Theater.