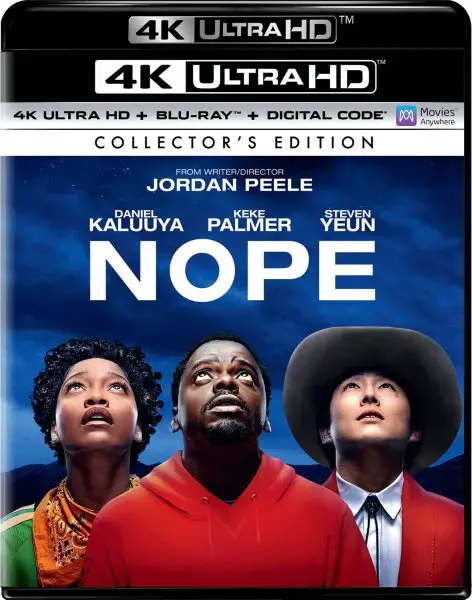 Jordan Peele's NOPE starring Daniel Kaluuya and Keke Palmer just released to theaters on July 22, earning over $44M in its opening weekend (Canada & US). The film is already available to pre-order on Blu-ray, 4k Blu-ray, and DVD, including exclusives from Best Buy and Walmart hitting stores on Oct. 25, 2022.
The Ultra HD Blu-ray combo edition of NOPE from Universal/SDS includes a 4k Blu-ray, Blu-ray, and Digital Copy, while the Blu-ray includes a BD, DVD, and Digital Copy.
The 4k Blu-ray edition of NOPE is presented in 2160p with Dolby Vision and HDR10+ (the upgraded version of HDR10) [Not confirmed] and 2.20:1 / 1.78:1 variable aspect ratios.
The soundtrack is formatted in English Dolby Atmos, French Dolby Digital 5.1, and Spanish Dolby Digital Plus 7.1. Subtitles are provided in in English SDH, French, and Spanish.
Bonus features include the 56-minute "Shadows: The Making of NOPE," deleted scenes, gag reel, and more.
NOPE is currently priced $27.99 (4k Blu-ray), $22.99 (Blu-ray), and $19.99 (DVD) at Amazon.
Exclusives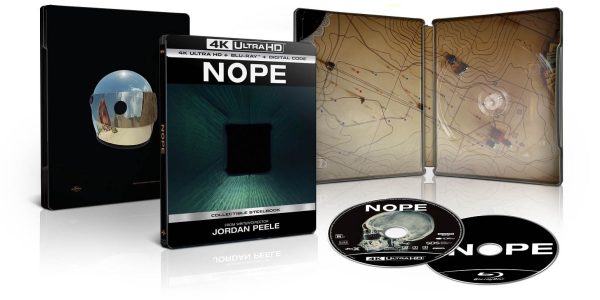 Best Buy has a Limited Edition SteelBook edition of NOPE with special artwork on the cover, reverse, inside spread, and 4k Blu-ray (the Blu-ray is just white text on black). The exclusive is priced $34.99 at Best Buy.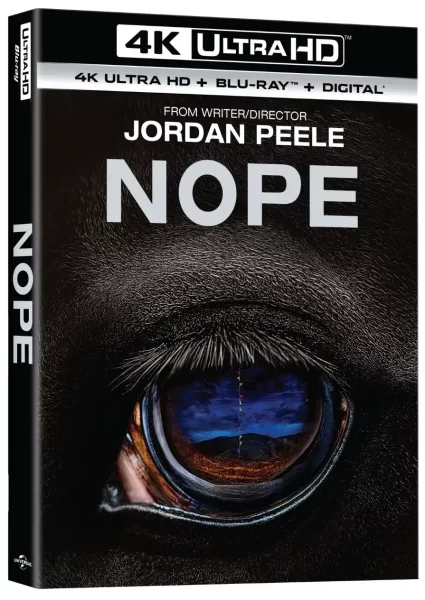 Walmart has an exclusive edition of NOPE with 4k Blu-ray, Blu-ray, and Digital Copy. The packaging art features a reflection of the haunted landscape in the eye of the horse named Ghost. The exclusive is priced $27.96 at Walmart.
Note: Article updated with revised disc specs and added bonus features.