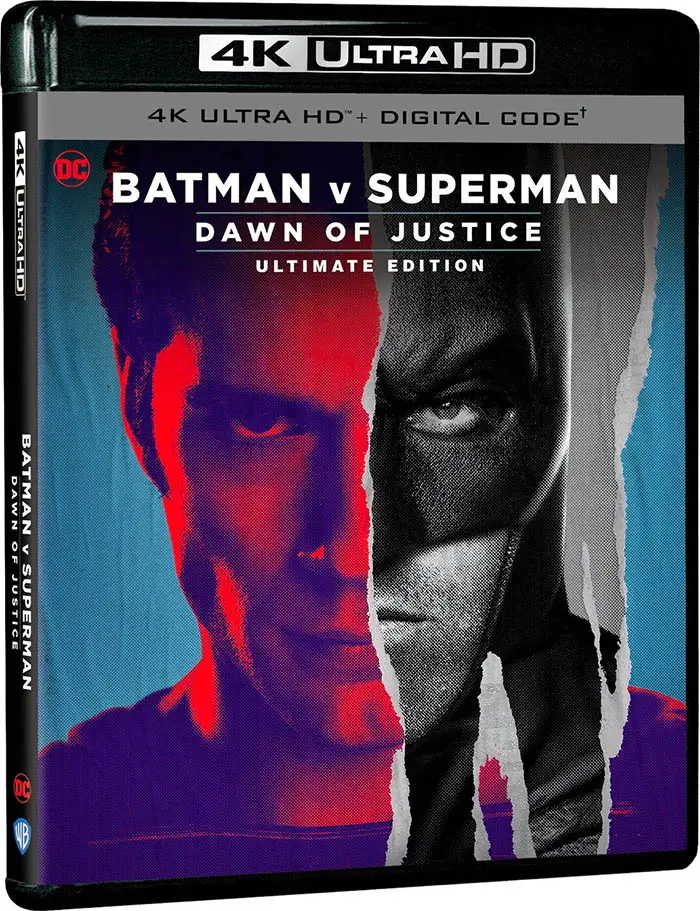 The Extended Cut of Batman v Superman: Dawn of Justice will release to a Region Free 4k Ultra HD Blu-ray edition on Mar. 23, 2021. The 182-minute cut features 30 more minutes of the story that was never seen in theaters upon the film's theatrical debut in 2016, and according to rumours has been remastered.
Update: This edition includes the 1.43:1 IMAX aspect ratio, enhanced color (according to Zack Snyder), and possibly new extras Intro by Zack Snyder [00:24] and Road to Justice [24:40].
Update 2: The provided Digital Code unlocks an exclusive digital feature with Zack Snyder reflecting on his three DC Universe films (however, this extra was already unlocked on Movies Anywhere from a previous digital code).
Update 3: The 4k Blu-ray only includes a 30-second introduction by Zack Snyder and audio commentary as bonus material. Total run time of the Extended Version is the same: 182 minutes.
The 4k Blu-ray combo edition from Warner Bros. also includes the Theatrical Version of the movie along with over 2 hours of bonus content, as well as a code to redeem a Digital Copy. Note: According to the packaging this edition does not include a 1080p Blu-ray copy of the film.
Batman v Superman: Dawn of Justice on Ultra HD Blu-ray is presented in 4k 2160p resolution with Dolby Atmos/Dolby TrueHD 7.1 surround sound. Variable aspect ratios include and 1.43:1. IMAX Multiple languages are provided in Dolby Digital 5.1.
Batman v Superman: Dawn of Justice – Ultimate Edition 4k Blu-ray Region Free edition with Digital Copy is priced $19.99. Buy on Amazon



Note: This article was revised with updates regarding the content.