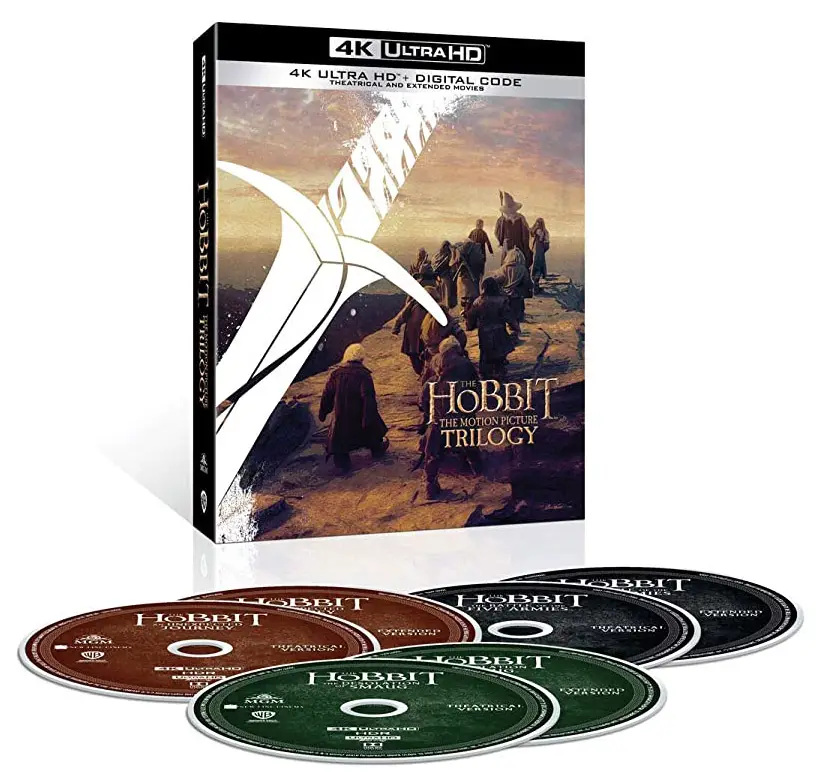 Peter Jackson's The Hobbit: The Motion Picture Trilogy will release to 4k Ultra HD Blu-ray with Digital Copies on Dec. 1, 2020. The six-disc edition includes both Extended & Theatrical version of the three 'Hobbit Films' including An Unexpected Journey (2012), The Desolation of Smaug (2013), and The Battle of the Five Armies (2014).
On 4k Blu-ray, each film is presented in 2160p at 2.40:1 (16×9) aspect ratio. HDR specs include both HDR10 and Dolby Vision (confirmed).
Previous Blu-ray prints of The Hobbit: The Motion Picture Trilogy provided the soundtrack in DTS-HD Master Audio 7.1, but this edition offers an upgrade to immersive Dolby Atmos. And, if following the last Trilogy edition subtitles should be offered in English SDH, French, Japanese, Portuguese, and Spanish.
First orders of The Hobbit: The Motion Picture Trilogy (List: $89.99) are likely to sell out. Jump over to Amazon to grab a copy.
Also Read: The Lord of the Rings Trilogy 4k Blu-ray & 4k Gift Set Up For Pre-Order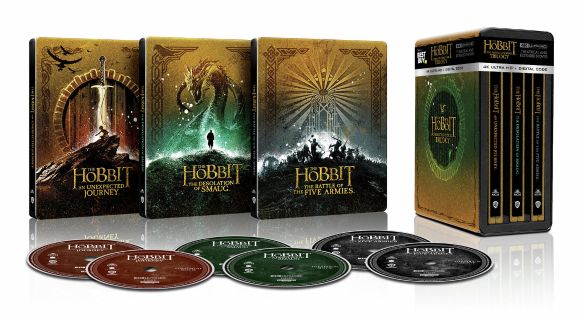 Best Buy 4k SteelBook
Best Buy also has a 4k Blu-ray SteelBook edition of The Hobbit: The Motion Picture Trilogy selling for $119. Purchase on Best Buy
Affiliate Message: As an Amazon Associate this website may earn a small percentage from qualifying purchases. Your purchases from links help keep this site running. Thank you!