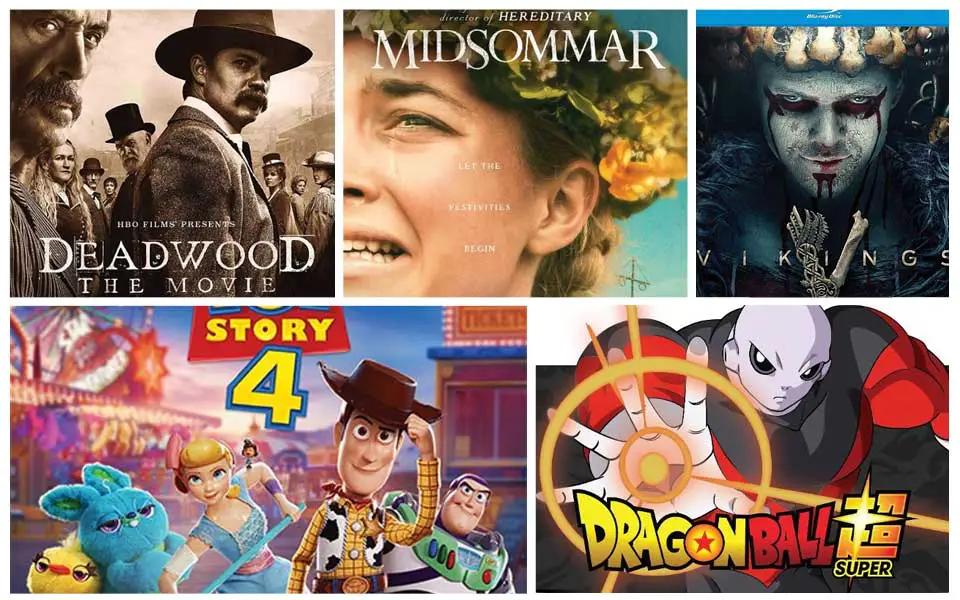 This week you can pick up the newest Toy Story film on Blu-ray, 4k Blu-ray, and DVD. The Ultra HD Blu-ray editions of Toy Story 4 are also available in limited editions from Best Buy and Target. And, don't forget the previous three Toy Story films just recently released to new 4k Blu-ray editions.
Ari Astor's horror film Midsommar gets a Blu-ray and DVD release (although a 4k print would have been nice). Deadwood: The Movie starring Ian McShane hits stores on disc in both Blu-ray and DVD editions. And, Vikings Season 5 Vol 2 arrives in a 3-disc edition from MGM with a total run time of 7 hours and 29 minutes.
Here's a look at the rest of this week's Blu-ray releases.
New on Blu-ray, Oft. 8, 2019
Ultra HD Blu-ray
Blu-ray
TV Series
Shazam The Complete Live Action Series
Movies
From Beyond the Grave

Hercules in the Haunted World

Three Silent Classics by Josef von Sternberg

Baby Blood "The Evil Within"

Red Joan

Primary Colors

The Electric Horseman

Norm of the North 3-Film Collection

Light of My Life

Sgt. Bilko

Toys Are Not For Children

My Boyfriend's Back

The Wedding Guest

Gwen

The Monster "Il Mostro"

Father Hood

American Dreamz

Kung Fu Monster

Every Time I Die

Wake

Dudly Do Right

The Shadow of Gold

Anime
Boruto: Naruto Next Generation Set 3
Tokyo Ghoul:re – Part 2 – BD/DVD Combo + Fun Digital
Yu-Gi-Oh! The Movie
Ai Tenchi Muyo: The Complete Series – Shorts
Tsuredure Children – Shorts
New on Blu-ray: Spider-Man: Far From Home, Chernobyl, Doom Patrol S1 & more!