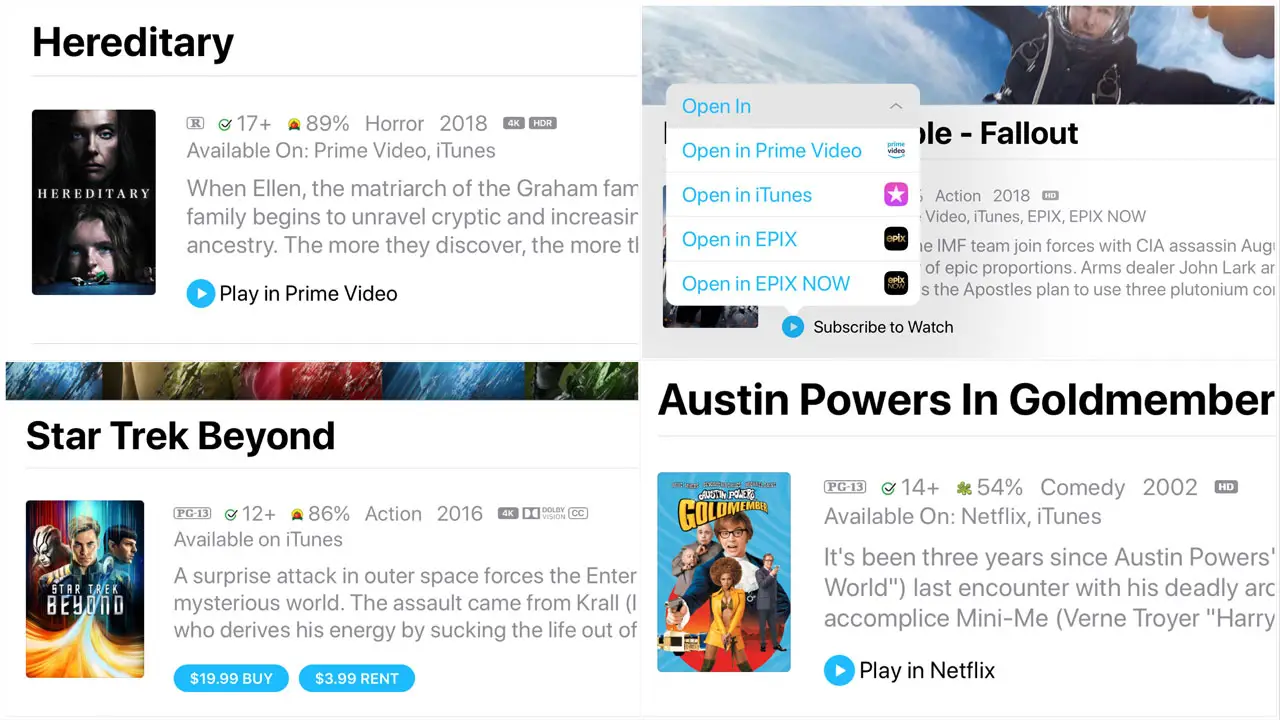 The Watch Now addition to Apple's TV app for iOS devices is now directing playback of movies and TV shows to services like Netflix and Amazon Prime Video, rather than Purchase or Rent options from within the Apple platform itself.
That means whenever you come across a title within the TV app that isn't in your library but may be served somewhere else, Apple provides a button to jump out of the TV app to that service. The feature is part of Apple's Watch Now initiative announced back in March which is supposed to streamline the user experience within the Apple ecosystem.
For example, when searching for the film "Hereditary" the Watch Now section in the TV app provides a button to "Play in Prime Video" rather than purchase or rent it from Apple. The same goes with titles such as "Daddy's Home 2" and "Summer '03."
Likewise, Apple directs users to watch movies like "Austin Powers Goldmember" on the Netflix app instead of within the TV app (not true, however, when using iTunes on iOS or macOS).
Furthermore, when a title isn't available to play on partnering service Apple will offer the option to "Subscribe to Watch." (See a thumbnail of the Watch Now options in the featured image above.)
For example, if "Mission: Impossible – Fallout" is not owned by an Apple customer the "Subscribe to Watch" button provides options to "Open in iTunes," "Open in Prime Video," "Open in EPIX," and "Open in EPIX NOW," the former of the three being the only non-subscription based service until Apple TV+ changes that this fall.
So far, we haven't seen Prime Video, Vudu or Google Play provide options to stream a title on Apple TV by tapping out of their respective apps. So, it seems the sharing of playback is one-sided so far.
Is Apple losing out on sales? You would have to imagine so.
The fact that Apple has integrated other services into their own platform is a step in the right direction for consumers, and, surprising given the amount of money the company may be giving up by selling or renting the titles themselves. But maybe there's more in store for us when Apple TV+ launches this fall, promising the ability to select Apple TV channels á la carte, and original content from creators like Steven Spielberg, Ron Howard, and Sofia Coppola.
Also Read:
Apple TV+, TV Channels, & highlights from Apple Event
Apple iTunes Splitting Apart
Apple's June 3, 2019 Keynote Highlights