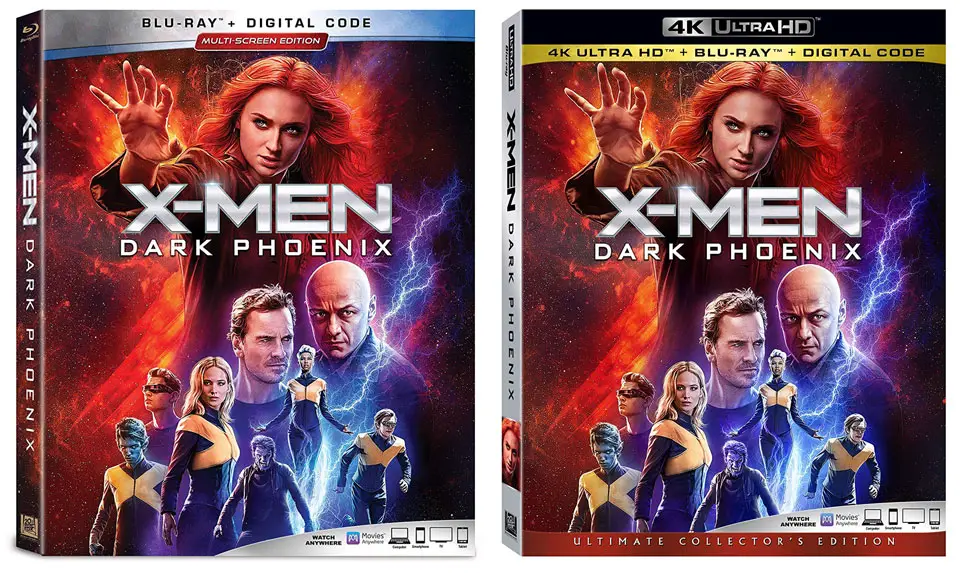 We've got the release date and official packaging for X-Men Dark Phoenix to packaged media. The 20th Century Fox title will release a 1-disc Blu-ray Multi-Screen Edition, 2-disc 4k Ultra HD Blu-ray Ultimate Collector's Edition, and 1-disc DVD edition on Sept. 17, 2019.
Each Blu-ray combo edition includes a code to redeem a Digital Copy (either HD or UHD) with Disney's Movies Anywhere. We'll get disc specs and bonus material posted as soon as received.
The X-Men Dark Phoenix disc editions are list-priced $37.99 (Blu-ray), $45.99 (4k Blu-ray) and $29.99 (DVD). Get up to 35% off when you order from Amazon.
Exclusive Retailer Editions
Exclusives will come from Best Buy, Target, and Walmart who will release their own packaged editions of X-Men Dark Phoenix on 4k Blu-ray. What's interesting to note is all three retailers are exclusively offering the higher-quality 4k Blu-ray editions rather than just 1080p versions.
Best Buy has a Limited Edition SteelBook on 4k Blu-ray with Blu-ray and Digital Copy for $34.99. Target's exclusive 4k Blu-ray edition with Blu-ray and Digital Copy features custom cover art by Orlando Arocena for $32.99. And, Walmart has their own exclusive 4k Blu-ray edition with Blu-ray, Digital Copy and Collectible cards selling for $36.66.
X-Men Dark Phoenix Packaging