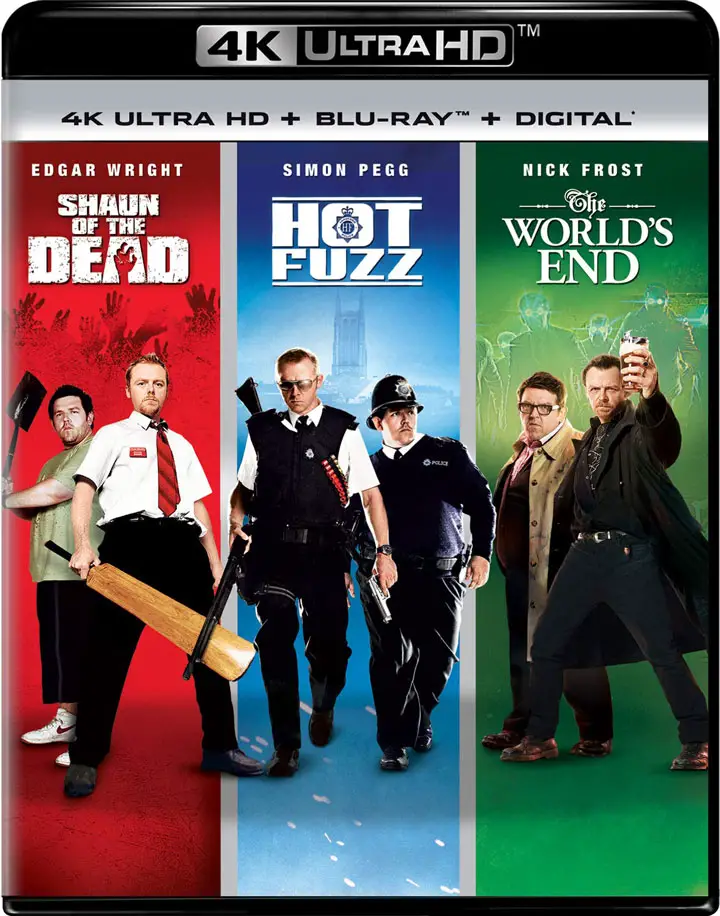 Three movies directed by Edgar Wright have been upgraded for release to 4k Ultra HD Blu-ray on September 10, 2019. The films, starring Wright along with Simon Pegg, include Shaun of the Dead (2004), Hot Fuzz (2007), and The World's End (2013).
The UHD BD edition is one of the few titles that feature HDR10+ High Dynamic Range, and even more rare the inclusion of Dolby Vision alongside the new HDR10+ spec. Each flick also features an DTS:X Immersive Audio soundtrack on the UHD BD, as well as DTS-HD Master Audio and Dolby Audio.
The combo edition from Universal Pictures Home Entertainment bundles all three films into a 6-disc edition that packs Ultra HD Blu-ray, Blu-ray, and Digital Copies of each film, along with tons of bonus features such on the Blu-ray discs such as deleted and alternate scenes, commentary, featurettes, trailers and more. The 4k Blu-ray discs do include a total of nine commentaries as a bonus.
The Shaun of the Dead, Hot Fuzz, and The World's End 3-movie collection carries an MSRP of $59.99. (Buy on Amazon)
[amazon_link asins='B07TMRSBKH' template='ProductGrid' store='hdrep-20′ marketplace='US' link_id='f5e1b114-ffdc-422a-a431-506d32902a9f']
Special Features
Disc 1 – Shaun of the Dead:
Includes 4K UHD, Blu-ray and a digital copy of Shaun of the Dead (Subject to expiration. Go to NBCUCodes.com for details
Features Dolby Vision and HDR10+ for Brighter, Deeper, More Lifelike Color
Feature Commentary with Simon Pegg & Edgar Wright
Feature Commentary with Simon Pegg, Nick Frost, Dylan Moran, Kate Ashfield, and Lucy Davis
Feature Commentary with Bill Nighy and Penelope Wilton
Feature Commentary with The Zombies
Disc 2 – Shaun of the Dead:
U-Control: Storyboards
U-Control: Zomb-o-Meter
Extended Bits with Optional Commentary
Outtakes
The Man Who Would be Shaun
Funky Pete
Plot Holes
Simon Pegg's Video Diary
Lucy Davis' Video Diary
Joe Cornish's Video Diary
Casting Tapes
Edgar & Simon's Flip Chart
SFX Comparison
Make-Up Tests
EPK Featurette
TV Bits
Photo Gallery
2000 Ad Strip
Poster Designs
US Trailer
UK Teaser Trailer
UK Trailer
UK TV Spot #1
UK TV Spot #2
Fright Fest Trailer
Storyboard Gallery
Feature Commentary with Simon Pegg & Edgard Wright
Feature Commentary with Simon Pegg, Nick Frost, Dylan Moran, Kate Ashfield and Lucy Davis
Feature Commentary with Bill Nighy and Penelope Wilton
Feature Commentary with the Zombies
Disc 3 – Hot Fuzz:
Includes 4K UHD, Blu-ray and a digital copy of Hot Fuzz (Subject to expiration. Go to NBCUCodes.com for details
Features Dolby Vision and HDR10+ for Brighter, Deeper, More Lifelike Color
Feature Commentary with Simon Pegg & Edgar Wright
Feature Commentary with the Sanford Police Service: Simon Pegg, Nick Frost, Jim Broadbent, Rafe Spall, Kevin Eldon & Olivia Colman
Feature Commentary with Edgar Wright & Quentin Tarantino
Feature Commentary with the Sanford Village People: Kenneth Cranham, Timothy Dalton, Paul Freeman & Edward Woodward
Feature Commentary with the Real Fuzz: Andy Leafe & Nick Eckland
Disc 4 – Hot Fuzz:
U-Control: Fuzz-o-Meter
U-Control: Storyboards
Inadmissible: Deleted Scenes
Outtakes
Conclusive: We Made Hot Fuzz
Speculative: Video Blogs
Art Department
Friends & Family
Cranks, Cranes & Controlled Chaos
Here Come the Fuzz
Return to Sandford
Edgar & Simon's Flip Chart
Simon Muggs
Sergeant Fisher's Perfect Sunday
Poster Gallery
Photo Gallery
Plot Holes
Special Effects: Before & After
AM Blam: Making 'Dead Right'
Dead Right (1993)
Edgar Wright Director's Commentary on Dead Right
Simon Pegg and Nick Frost Commentary on Dead Right
The Fuzzball Rally with Commentary by Edgar Wright, Simon Pegg, Nick Frost and Joe Cornish
The Man Who Would Be Fuzz
Hot Funk
Danny's Notebook: The Other Side
VW Blogs
iTunes Blogs
UK TV Spot 1
UK TV Spot 2
Director's Cut Trailer
Storyboard Gallery
Feature Commentary with Simon Pegg & Edgar Wright
Feature Commentary with The Sandford Police Service: Simon Pegg, Nick Frost, Jim Broadbent, Rafe Spall, Kevin Eldon & Olivia Colman
Feature Commentary with Edgar Wright & Quentin Tarantino
Feature Commentary with The Sandford Village People: Kenneth Cranham, Timothy Dalton, Paul Freeman & Edward Woodward
Feature Commentary with The Real Fuzz – Andy Leafe & Nick Eckland
Disc 5 – The World's End:
Includes 4K UHD, Blu-ray and a digital copy of The World's End (Subject to expiration. Go to NBCUCodes.com for details.)
Features Dolby Vision and HDR10+ for Brighter, Deeper, More Lifelike Color
Feature Commentary with Writers Edgar Wright & Simon Pegg
Technical Commentary with Director Edgar Wright and Directory of Photography Bill Pope
Cast Commentary with Simon Pegg, Nick Frost & Paddy Considine
Disc 6 – The World's End:
U-Control – Storyboard Picture in Picture
Deleted Scene
Out-Takes
Alternate Edits
Completing the Golden Mile – The Making of The World's End
Featurettes
Technical Commentary with Director Edgar Wright and Director of Photography Bill Pope
Director at Work
Pegg + Frost = Fried Gold
Friends Reunited
Three Flavours Cornetto® Trilogy
Filling in the Blanks: The Stunts and FX of The World's End
Animatics
Hair and Make-Up Tests
Cast Commentary with Simon Pegg, Nick Frost & Paddy Considine
Rehearsal Footage
Stunt Tapes
VFX Breakdown
Bits and Pieces
There's Only One Gary King – Osymyso's Inibri-8 Megamix
Signs & Omens
Edgar & Simon's Flip Chart
Trailers
TV Spots
TV Safe Version
Galleries
Trivia Track
Credits
Feature Commentary with Writers Edgar Wright & Simon Pegg