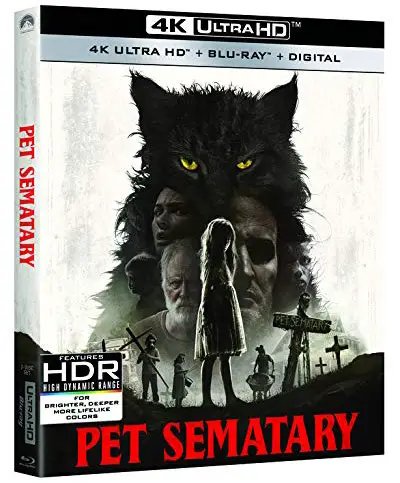 Paramount's remake of Pet Sematary (2019) is arriving on Blu-ray, 4k Blu-ray, and a 2-Movie Collection with the original 1989 version. Based on the novel by Stephen King, the horror/thriller will be available on July 9 in 2-disc Blu-ray combo editions with a code to redeem a digital copy.
Pet Sematary Blu-ray / 4k Blu-ray
Available on disc for the first time, Pet Sematary (2019) is presented in 1080p on Blu-ray and 2160p on 4k Blu-ray with High Dynamic Range delivered through Dolby Vision and HDR10. Both editions feature a Dolby Atmos/Dolby TrueHD 7.1 soundtrack.
Over 90 minutes of bonus features include deleted and extended scenes, an alternate ending, and several featurettes. (See details below.)
The 2-disc Blu-ray editions of Pet Sematary (2019) are available to order from Amazon for $22.99 (Blu-ray) and $27.95 4k (Blu-ray). Note: Prices may change. See the Amazon links below for updated prices.


Pet Sematary 2-Movie Collection
Pet Sematary (2019) is also available in a 2-Movie Collection that includes the previously-released newly-restored 30 Anniversary Edition of the original Pet Sematary (1989). A 4-disc combo edition is available on either 4k Blu-ray or Blu-ray and includes a second disc and a Digital Copy to redeem online.
The Pet Sematary 2-Movie Collection on 4k Blu-ray is available to purchase from Amazon for $39.99 (List: $48.99) or Blu-ray $33.17 (List: $34.99). See updated pricing below.


Bonus Features
Alternate Ending
Deleted and Extended Scenes
Night Terrors – Family Haunting Visions
The Tale of Timmy Baterman
Beyond the Deadfall

Chapter One: Resurrection – Directors, screenwriters and cast discuss bringing this classic back to life
Chapter Two: The Final Resting Place. A deeper look into finding the right location for the terror to unfold
Chapter Three: The Road to Sorrow. Inside the film's tragic themes and creating the iconic cat "Church"
Chapter Four: Death Comes Home. Unearth the creepy elements behind the climax and final scenes of the film