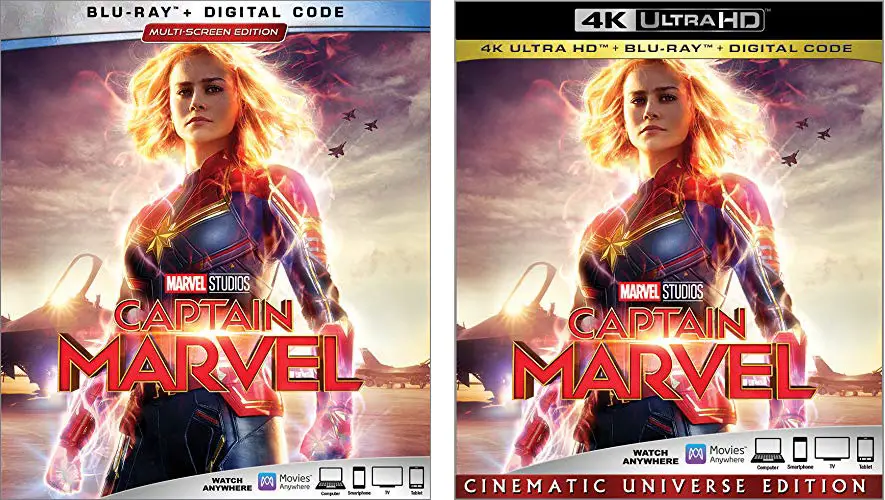 We fully expected Captain Marvel to start shipping from Amazon upon release date (June 11, 2019), because that's what has happened with other Disney titles that were unavailable to pre-order on Amazon.
But after months of having a strange release date on the product description page (Captain Marvel on Blu-ray was listed as Feb. 27, 2019 — a month before the film even premiered in theaters), and versions listed as "unavailable," the film is still not offered on Amazon as you would see most Blu-ray and DVD movies.
It's not that Captain Marvel isn't listed. You can find the title on Amazon but the products are either being sold by third parties or have a suspicious Amazon description. Here's what we find with each disc version right now.
The DVD-only edition of Captain Marvel edition is priced $27.29 (List: $29.99) but is being sold by a third party and says "Not eligible for Amazon Prime."
The Blu-ray Multi-screen Edition (priced $29.99) says Free Prime Delivery, but there is no photo of the product and description says "Usually ships within 1 to 2 months." This odd listing of Captain Marvel with a release date of Feb. 27 has been like this for months.
The 4k "Cinematic Universe Edition" of Captain Marvel has the most suspect listing. The movie is priced "from $17.95" but we all know new 4k Blu-rays usually cost around $29.99. The low price simply means you can get a used copy at that amount, or a new copy starting at $39.49. But these are all sold by third parties and be careful because many used copies don't include the digital code.
For now, your best bet is going to be to pick up Captain Marvel at Best Buy, Target, or another retail store. Or, search through the eBay listings of Captain Marvel
where there are plenty of copies available including SteelBooks and Target Exclusives.
'Captain Marvel' 4k Blu-ray, SteelBook & Retailer Exclusives