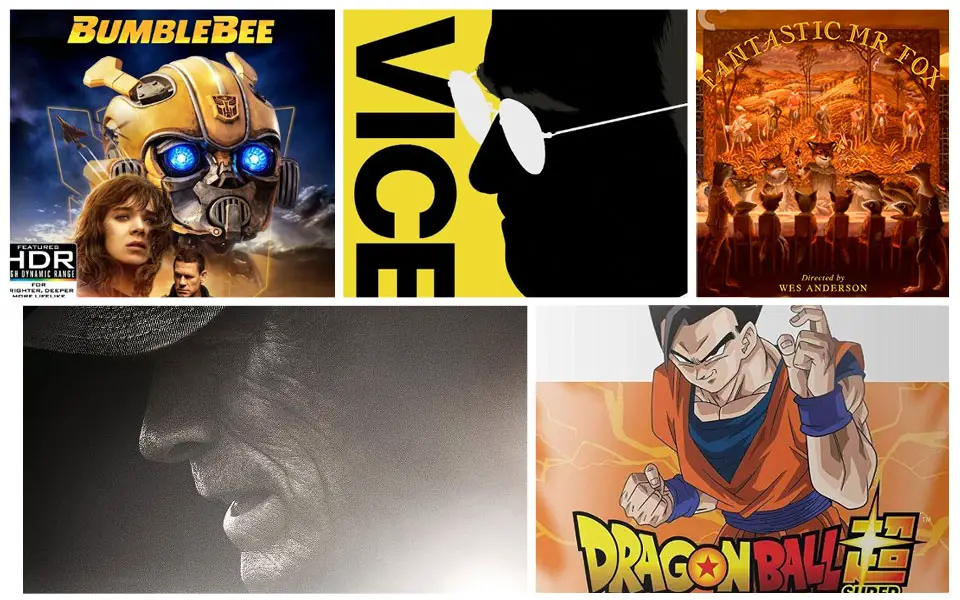 Here's what's coming to Blu-ray & 4k Blu-ray this week! Paramount Picture's Bumblebee is among the most popular disc releases with Blu-ray, 4k Blu-ray, and an exclusive SteelBook edition from Best Buy. The film will also be available in a more economical 6-movie pack on Blu-ray.
Clint Eastwood's The Mule hits stores on both Blu-ray and 4k Blu-ray, each format available in combo editions from Warner Home Video with an extra disc, digital copy, and a couple of extras.
And, Annapurna's Oscar-winning film Vice is also releasing to Blu-ray Disc this week in a combo edition from 20th Century Fox that includes a DVD and digital copy. Check out the rest of this week's Blu-ray releases and be sure to see new anime titles down below.
New Blu-ray & 4k Blu-ray Releases, April 2, 2019
Ultra HD Blu-ray
Blu-ray
Collections
Movies
The Man Who Killed Hitler and then The Bigfoot
350 Days
American Relapse
The Great Buster: A Celebration
Nancy Drew and Hidden Staircase
Terra Formars
Egg
Patrick
Pledge
A Breath Away
No Alternative
Rust Creek
Fantastic Mr. Fox (2009) – Criterion Collection
Unstrung Heroes (1995)
Green Card (1990)
Picnic at Hanging Rock (1975) – Criterion Collection
An Innocent Man
No Alternative
Adventures at the Chocolate Factory
He I Shrunk My Teacher
Aquiles Priester All Access
Anime
Dragon Ball Super: Part Seven
Pokémon: Indigo League – Season 1
A Silent Voice: The Movie
Anyone You Can Do, I Can Do Better
Dances with the Dragons: The Complete Series
Basilisk: The Ouka Ninja Scrolls – Part One
Golden Kamuy: Season One
Space Battleship Tiramisu: Season 1
Chaos Dragon: The Complete Series
Castle Town Dandelion: The Complete Series
In case you missed it, here are last week's new Blu-ray releases including Aquaman, If Beale Street Could Talk, My Hero Academia and more.
[amazon_link asins='B07NB93XN1,B07JVF7QW4,B07JVF7KZM,B07LD8Q783,631769964X,B07MWQCXTS,B07KZGCNWT,B07LD35FKC,B07MMP3LV1′ template='ProductGrid' store='hdrep-20′ marketplace='US' link_id='a1c59309-2132-407e-9984-b465120d4dc1′ template='ProductGrid' store='hdrep-20′ marketplace='US' link_id='0b9a5df3-754c-4d65-920f-7823b54a52ad']