Marvel's Aquaman will release to several Blu-ray Disc editions on March 26, and along with the common versions you'll find in stores and online there will be several exclusive editions from retailers including Best Buy, Target and Walmart. Here's an overview of the collectible limited editions from your favorite store — get them while you can because they often sell out.
Best Buy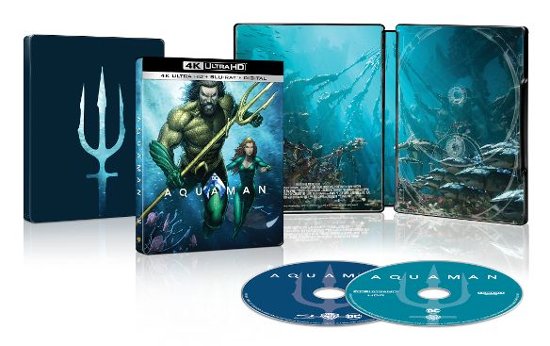 Best Buy's exclusive edition of Aquaman features their signature SteelBook packaging with custom artwork on the cover, back and inside spread. Best Buy is also giving early access to watch Aquaman digitally on Movies Anywhere via email to anyone who pre-orders their exclusive 4k Blu-ray SteelBook edition for $34.99.
Target
Target will have both Blu-ray and 4k Blu-ray Only@ Target exclusive editions of Aquaman. This is a rarity these days as retailers typically choose only one format to package differently from the common editions. Both combo editions feature exclusive artwork on the packaging and a 64-page book excerpt. The Blu-ray sells for $32.99 while the 4k Blu-ray sells for $36.99.
Walmart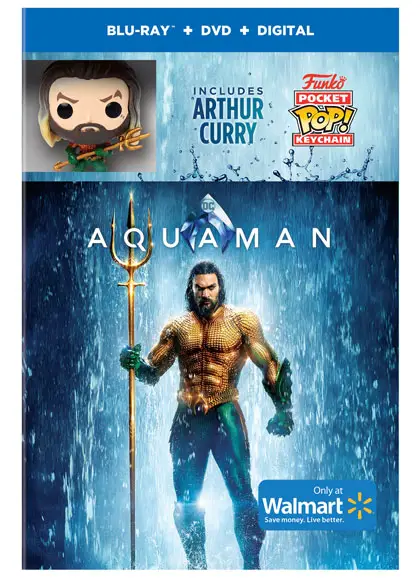 Walmart has an exclusive edition of Aquaman that includes a collectible Funko Pop Keychain along with Blu-ray, DVD and Digital Copy. The edition sells for $29.96, but it does not appear a 4k edition will be available from the store.
Common Blu-ray
The standard Blu-ray edition of Aquaman comes in a 2-disc combo with Blu-ray, DVD and Digital Copy. Video is presented in 1080p at 2.39:1 widescreen aspect ratio. Audio is provided in English Dolby Atmos and Dolby TrueHD 7.1, as well as English, French and Spanish in Dolby Digital 5.1. The disc also contains subtitles in English SDH, French, Portuguese, Spanish. Amazon sells Aquaman on Blu-ray for $24.99.
Common 3D Blu-ray
The 3D Blu-ray combo edition of Aquaman includes a 3D disc, Blu-ray Disc, and Digital HD Copy redeemable with Movies Anywhere. Specs are the same as the Blu-ray Disc except with the addition of 3D video. Amazon is selling a 1-disc Aquaman 3D Blu-ray edition for $44.95, while Best Buy has the 2-disc combo edition for $29.99.
Common Ultra HD Blu-ray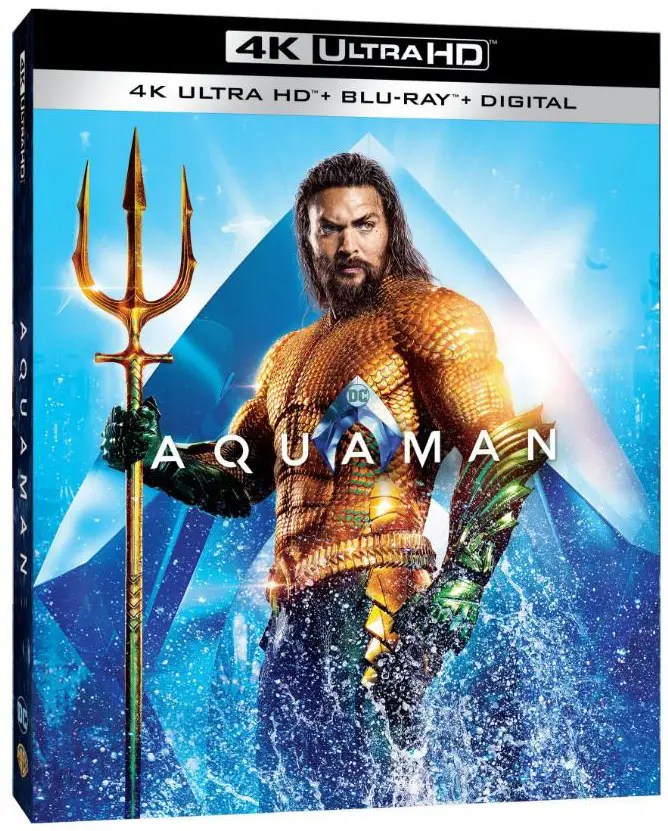 The 4k Ultra HD Blu-ray edition of Aquaman (pictured above) features 2160p video resolution with High Dynamic Range color depth. Audio is provided in English Dolby Atmos as well as Dolby TrueHD 7.1 with English SDH subtitles. The 4k Blu-ray edition sells for $29.99 (List: $44.95) on Amazon and Best Buy.
Bonus Features
– Becoming Aquaman
– Going Deep Into the World of Aquaman
– James Wan: World Builder
– Dark Depths of Black Manta
– The Heroines of Atlantis
– Villainous Training
– A Matchmade in Atlantis
– Atlantis Warfare
– Creating Undersea Creatures
– Aqua Tech
– Scene Study Breakdown: The Submarine
– Scene Study Breakdown: Sicily Showdown
– Scene Study Breakdown: The Trench
– Kingdoms of the Seven Seas
– Shazam Sneak Peek
Price
Aquaman is list-priced $35.99 for Blu-ray (Pre-order $24.96), $34.99 for 3D Blu-ray (Pre-order), and $44.95 for Ultra HD Blu-ray (Pre-order $29.96). The exclusive retailer editions vary depending on edition.
[amazon_link asins='B07GW487ZF,B07GW2ZW5K' template='ProductGrid' store='hdrep-20′ marketplace='US' link_id='f47aab40-41bd-48cc-a911-57651817951b']