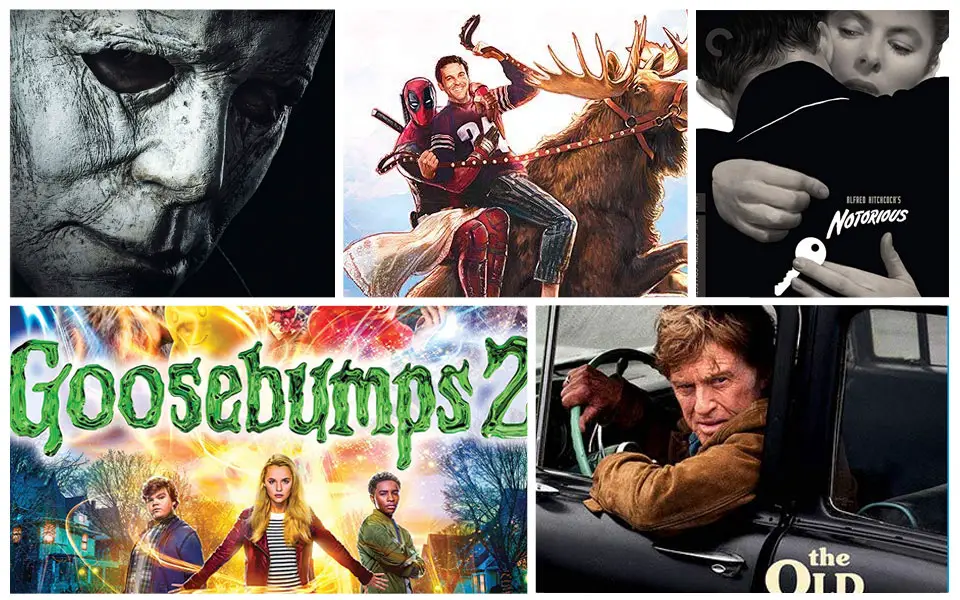 Here are our highlights for new releases on Tuesday, Jan. 15. Universal Pictures' Halloween hits stores on both Blu-ray & 4k Blu-ray Disc. The film, directed by David Gordon Green and starring Jamie Lee Curtis, takes place 40 years after the original Halloween movie from 1978. The Blu-ray Disc editions include deleted and extended scenes as well as special featurettes with behind the scenes looks at creating the film. Each Blu-ray combo edition of Halloween includes an extra disc and digital copy. Price: $19.99 (Blu-ray) $24.99 (4k Blu-ray) on Amazon.
The PG-13 Deadpool 2: Once Upon a Deadpool is "A Fairy-Tale Twist on Deadpool 2 the Whole Gang Can Enjoy." The watered down DP2, which just secured a China release, is available in a 2-disc Blu-ray edition from 20th Century Fox. Not sure if you want it? Would it help that Fred Savage was added to the film as part of Ryan Reynolds stipulation? Price: $14.99 on Amazon.
Other new Blu-ray titles you might consider this week: Sony Pictures' Goosebumps 2: Haunted Halloween, The Old Man And The Gun starring Robert Redford, the 4k Blu-ray release of Cliffhanger, and Criterion Collection's release of Notorious (1946) from director Alfred Hitchcock starring Ingrid Bergman and Cary Grant.
New on Blu-ray, Jan. 15, 2019
Ultra HD Blu-ray
Goosebumps 2: Haunted Halloween
Halloween
Cliffhanger
Blu-ray
TV
Overlord II: Season Two
The Pink Panther Cartoon Collection Volume 4
Movies
Goosebumps 2: Haunted Halloween (2018)
Halloween (2018)
Deadpool 2: Once Upon a Deadpool (2018)
The Old Man And The Gun (2018)
Speed Kills (2018)
Madeline's Madeline (2018)
Jonathan (2018)
The Basement (2018)
12 Round Gun (2018)
The Insufferable Groo
Unfinished Plan: El camino de Alain Johannes (2016)
Crimson Peak (2015)
Obsession "Rendez-Vous" (2015)
Les Miserables (2012)
Scott Pilgrim vs. The World (2010)
Last Action Hero – Retro VHS Look (1993)
Who's Harry Crumb? – Retro VHS Look (1989)
Jack the Ripper (1988)
The Land Before Time (1988)
Howling III (1987)
Hardbodies – Retro VHS Look (1984)
Krull – Retro VHS Look (1983)
The Plague Dogs (1982)
Silent Rage – Retro VHS Look (1982)
Happy Birthday To Me – Retro VHS Look (1981)
Saturday The 14th (1981)
Four Times That Night (1971)
The Forbidden Photos Of A Lady Above Suspicion (1970)
The Plague of the Zombies (1966)
Knives of the Avenger (1966)
Abbott and Costello Meet Frankenstein (1948)
Notorious (1946) – Criterion Collection
The Glass Key (1942)
Anime
Hunter x Hunter Vol 5
Black Clover: Season One Part Three
Rocket Girls
Here are last week's new Blu-ray releases in case you missed it.