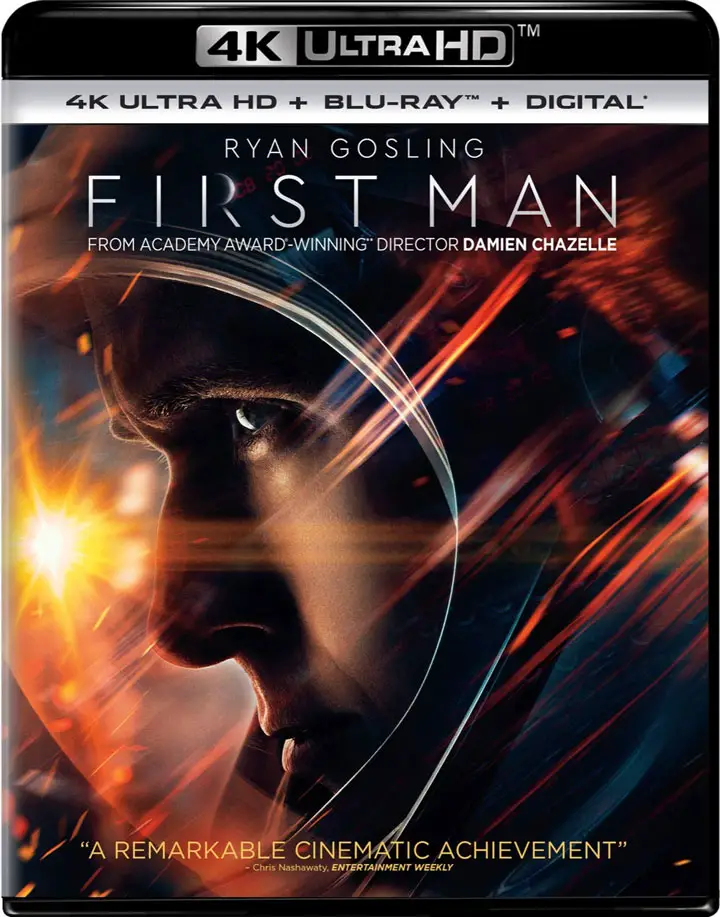 Universal Pictures officially announced the release of First Man to Blu-ray Disc on Jan. 22, 2019, following a digital-only premiere on Jan. 8. Along with 1080p Blu-ray and DVD, First Man will also hit stores on 2160p (4k) Blu-ray with High Dynamic Range (HDR) and a soundtrack in Dolby Atmos/Dolby TrueHD.
What makes this UHD BD release somewhat unique among other Ultra HD titles is the inclusion of bonus features in 4k resolution. Typically, extras are only offered on the 1080p Blu-ray discs, not the 2160p discs, with the exception of feature commentaries often accompanying the 4k presentation.
Bonus features include deleted scenes and feature commentary, as well as the featurettes "Giant Leap in One Small Step," "Recreating the Moon Landing," "Shooting at Nasa," and "Astronaut Training."  Each combo edition also provides a code to redeem a digital copy via Movies Anywhere, either in HD or UHD depending on edition purchased.
The Blu-ray version of First Man is available to pre-order for $22.67 and the 4k Ultra HD Blu-ray edition for $25.74 from Amazon. The single-disc DVD is priced $19.99.
First Man was directed by Damien Chazelle with screenplay written by Josh Singer. The movie stars Ryan Gosling, Claire Foy, and Jason Clarke.
'First Man' Bonus Features
Deleted Scenes
Shooting for the Moon – Take an intimate look at the production of First Man and the collaborative relationship between Director Damien Chazelle and Ryan Gosling.
Preparing to Launch – It's difficult to believe that First Man is the first major feature film to tell the journey to Apollo 11. Hear from Director Damien Chazelle and his cast why now is the time to tell the story of this historic event.
Giant Leap in One Small Step – A heroic character study, First Man sheds light on all the hard-working individuals that got us to the moon and back.
Mission Gone Wrong – Watch as Ryan Gosling re-enacts a test piloting sequence gone terribly wrong. Go behind the scenes to see how he trained to nail the landing, performing the majority of his own stunts.
Putting You in the Seat – Through the use of innovative technology, most of First Man was shot in-camera. Take an in-depth look behind the lens of this epic film.
Recreating the Moon Landing – Filmed in IMAX to show the vastness of the moon, find out all that it took to recreate the most famous moment in NASA history.
Shooting at NASA – Hear from Ryan Gosling and Director Damien Chazelle on how shooting at NASA brought unparalleled authenticity to First Man.
Astronaut Training – Go behind the scenes of the three-day boot camp each of the actors underwent prior to filming First Man.
Feature Commentary with Director Damien Chazelle, Screenwriter Josh Singer and Editor Tom Cross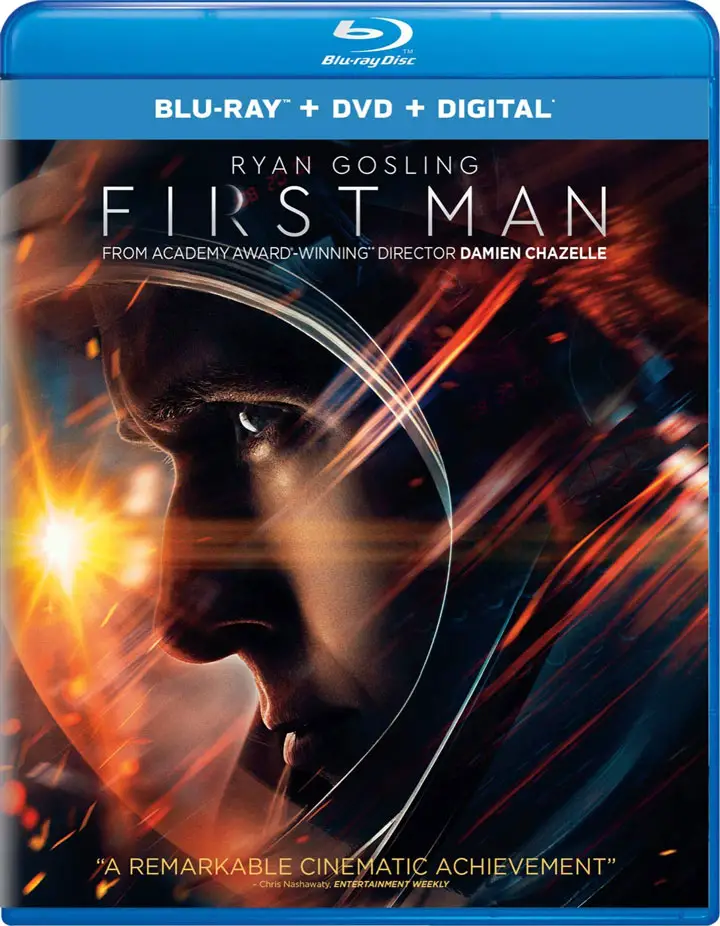 [amazon_link asins='B07HSJWBY1,B07HSM5VQ5′ template='ProductGrid' store='hdrep-20′ marketplace='US' link_id='802b8b00-7a76-47db-b251-ed39c50fe9fa']